Open Door: The Gilded Age of Hawley-Hutzler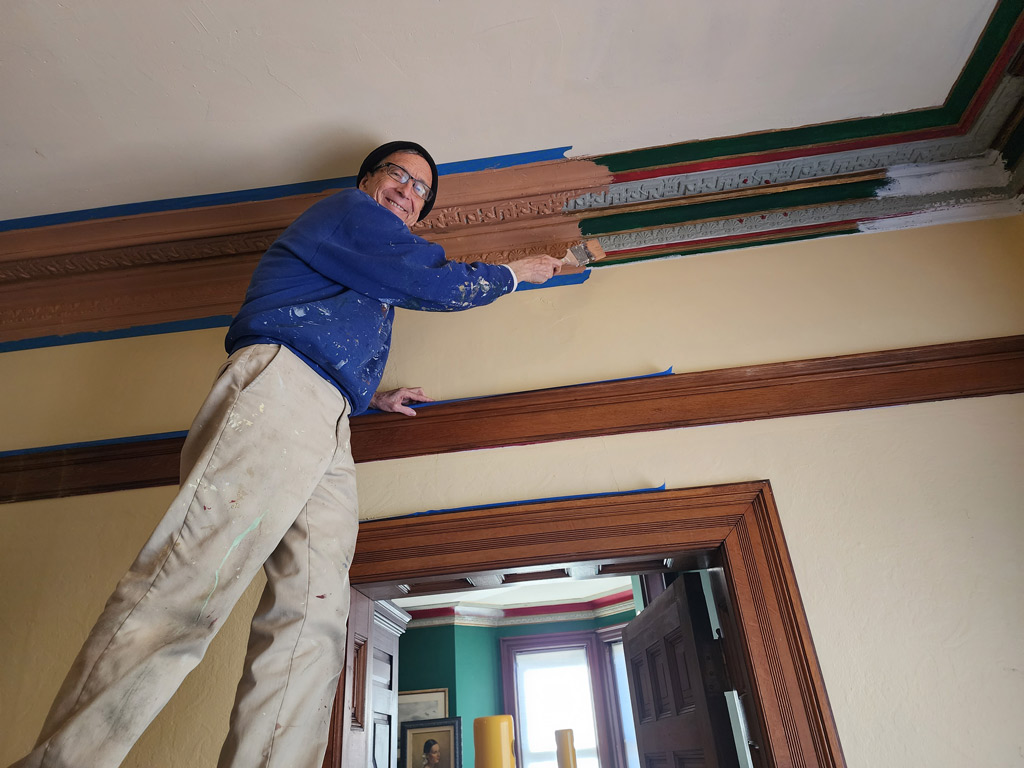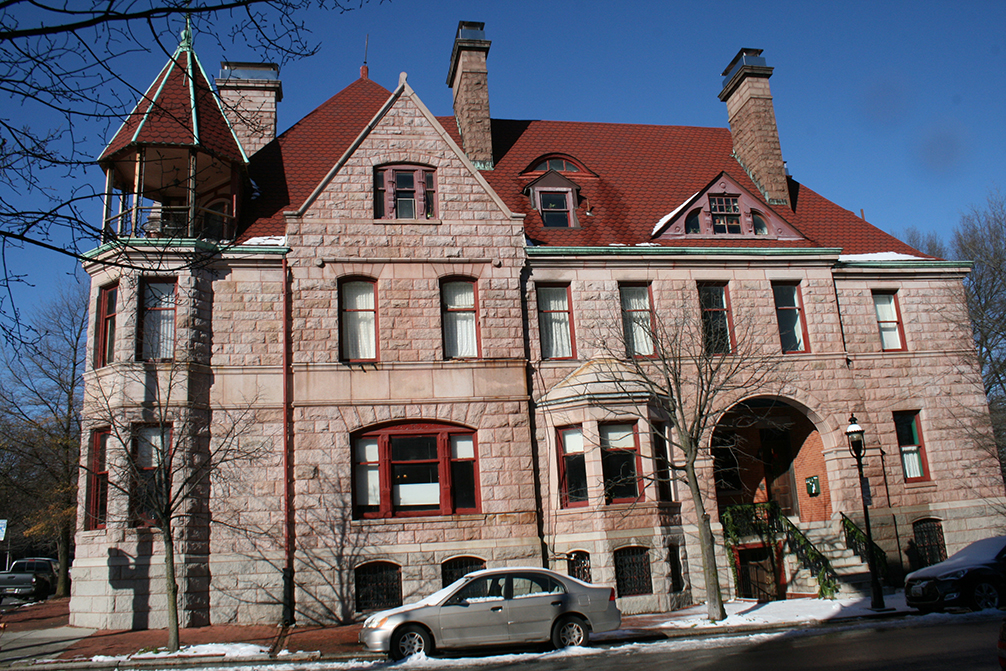 Some say the Gilded Age extended from the end of the War Between the States (aka US Civil War) to the beginning of the First World War. Others say from the end of Reconstruction in 1877 to the presidential election of 1896, or even just to the economic crash of 1893. Whatever bookends for dates one uses, the Hawley-Hutzler House was built smack dab in the middle of the Gilded Age, with construction finishing circa 1887.
The phrase originated with Mark Twain's and Charles Warner's frothy 1873 book, "The Gilded Age," a satire of Washington, DC's elite society.
Traditional gilding since antiquity is extremely thin gold foil glued to a substrate such as wood or plaster or metal then burnished smooth. Sometimes the foil was chopped up into tiny flakes before application. Gold-colored bronze flakes, mostly made in Germany, were also used but the manufacturing process was tedious and expensive. Around 1840, Englishman Henry Bessemer, a resourceful tinkerer and inventor, best known for a process for the production of steel, invented a new more efficient and less expensive mechanical process to make bronze powder. He also developed "a gold paint" using bronze powder, just in time for the Gilded Age.
The Hawley-Hutzler House has gilded sconces, mirrors, cornices and radiators. A recent project was restoring the finish on a large cylindrical radiator. One of the downsides of bronze powder is that, unlike real gold, bronze tarnishes over time. This natural tarnishing on the radiator was joined by rusting from a plumbing leak from the bathroom above. The cast-iron lid of the radiator was removed, the parts wire-brushed, then painted with Valspar Gold Leaf paint. The result seemed just right: like an old but shiny metal radiator. Unlike a can of soup, cans of paint don't list the ingredients. Intrigued by the gold leaf name, I did some research and discovered that most metallic looking paints are now made with mica flakes.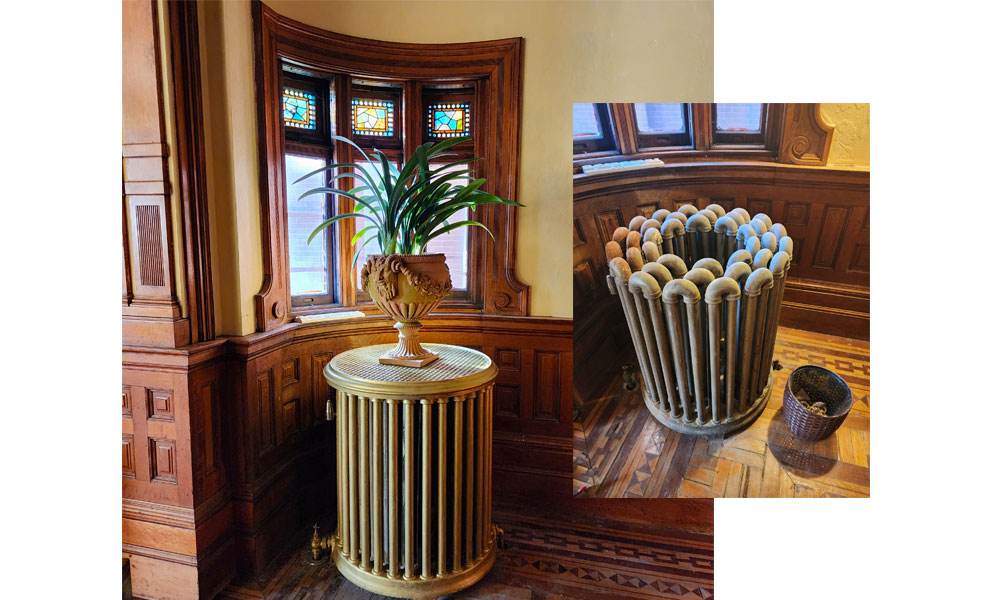 The gilded cornices were a surprise uncovered by Matthew Mosca, a premier finish analyzer based in Baltimore. He took samples of a red, green and gray painted plaster cornice with some narrow, gilded stripes, cast them in acrylic, sliced the castings open and took microphotographs. With extreme magnification, he observed an (1a) orangish-tan primer coat, (1b) an irregular first gilding with bronze flakes, (2) a coat of gray paint some of which seeped into cracks in the gilding, (3a) another coat of primer, and (3b) a high quality second gilding. Matthew explained that this was likely "flash gilding" where bronze powder was put on a tacky coating, such as sizing or rabbit skin glue, using a pounce bag (a cloth bag filled with powder).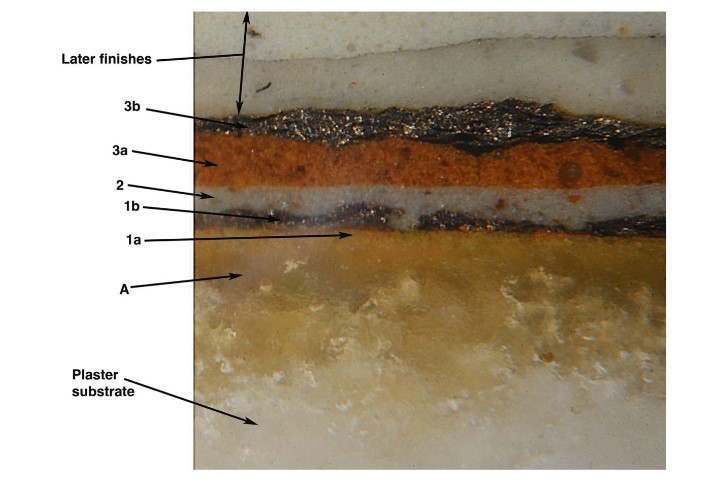 I gently scraped, patched and sanded the plaster cornices, then primed them with a Benjamin Moore eggshell paint matching the original primer. Bronze powder is available, but knowing that bronze powder gilding took lots of experience to get it right, I looked for a "gold" paint that would replicate the original. I found a PPG Metallic Paint that comes in a variety of colors and selected Gilded Gold. I coated a curvy molding with both the Valspar and the PPG gold paint and found the Valspar looked greenish by comparison.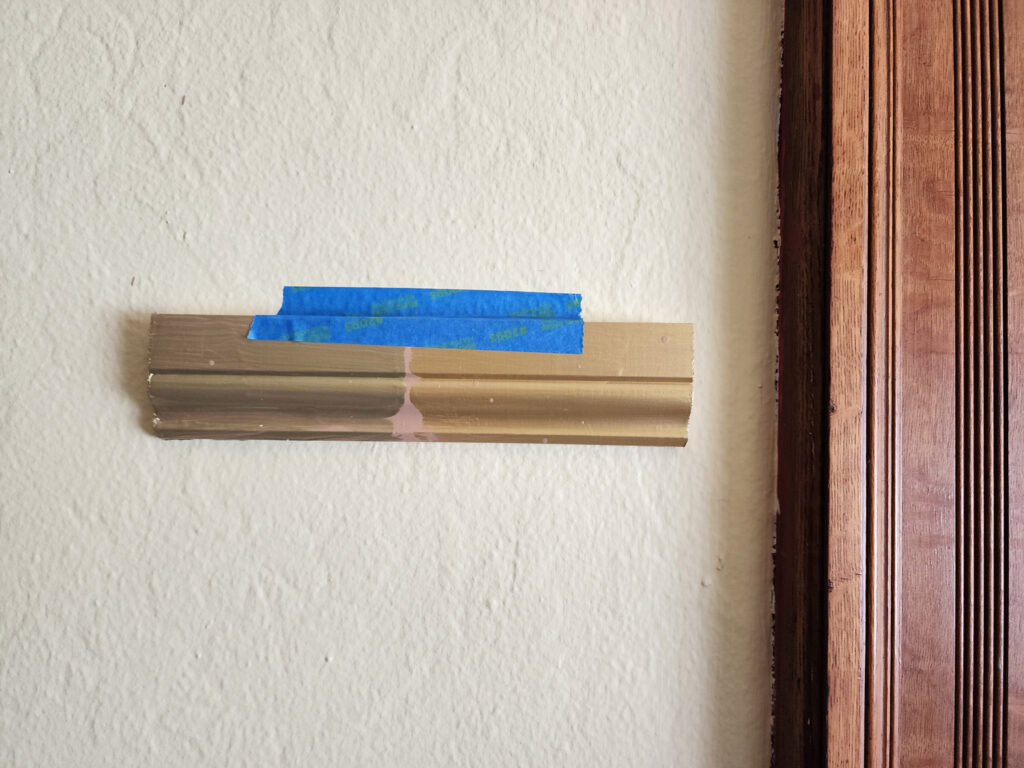 Before gilding, the elaborate design of the cornices, including a Greek key intertwined with a Columbine vine and a row of scallop shells alternating with flowers, was camouflaged by the many stripes of different colors. Afterwards, the uniform color and sparkly highlights reveal the sculptural effects.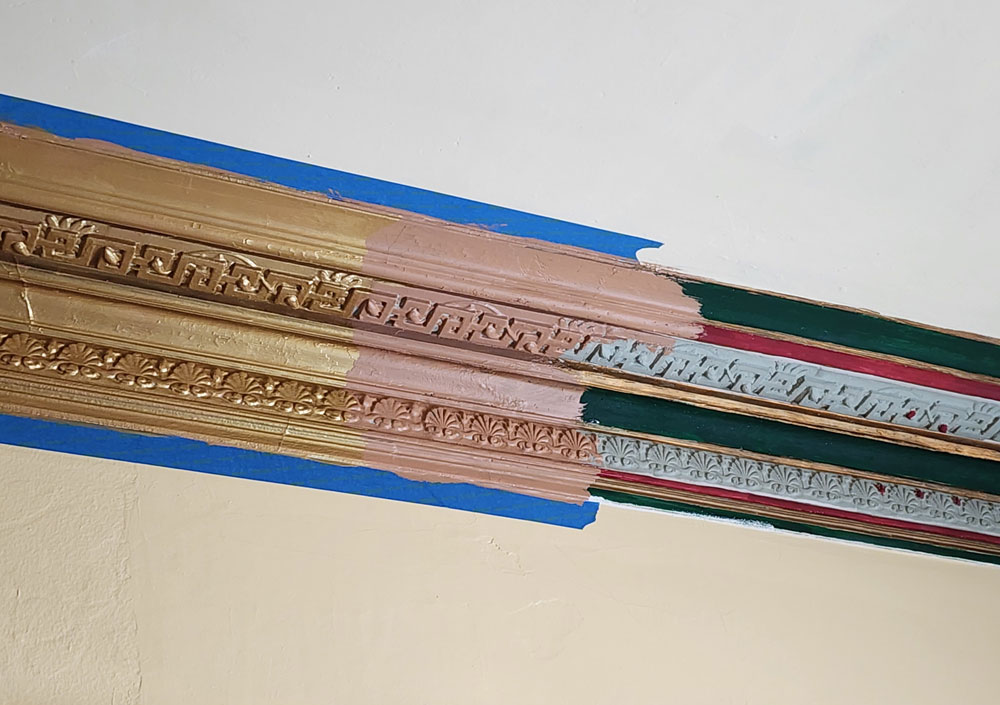 Things I've learned about painting :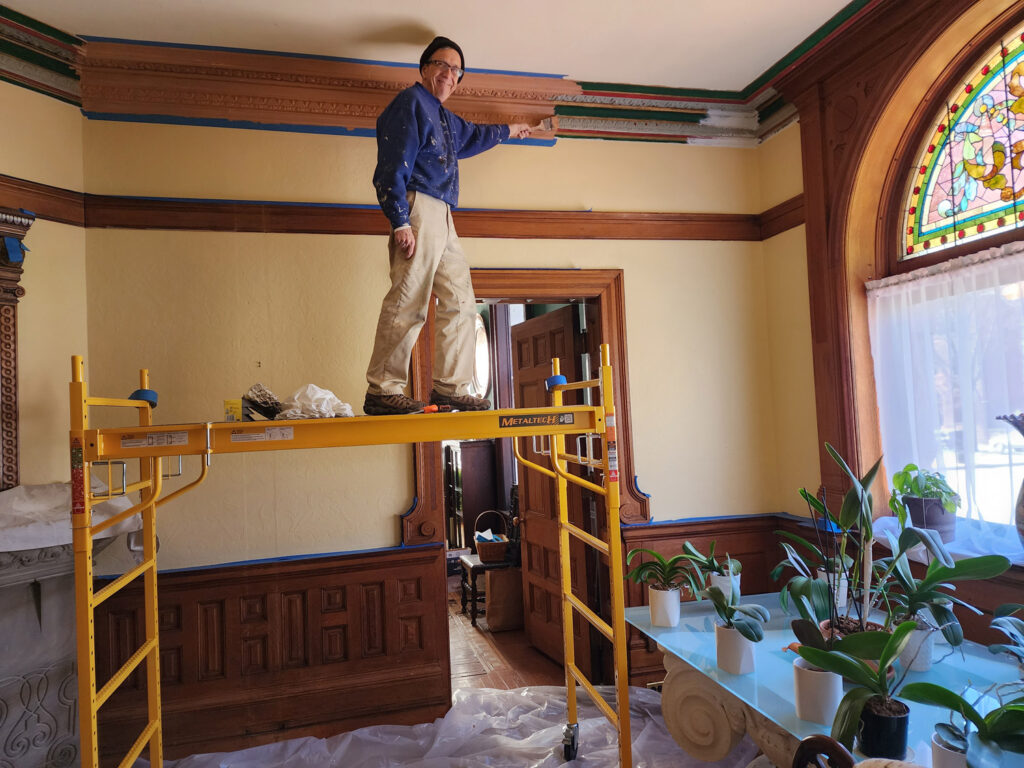 Buy a rolling scaffold. The easily adjustable Techmetal one I got saved a huge amount of time and greatly increased my safety. The big locking wheels made it easy to move around and fasten in place.
Use good paint for the primer. I started with the low-end Ben Moore paint and it dripped all over.
Plan on two coats for the metallic paint.
Paint six feet or so, then take out your cell phone flashlight and take a close look. I did lots of touchup of both tiny and surprisingly big misses.
Use painters' tape liberally: tops of doors and door casings, picture moldings, chair-rails, etc. Smooth down the edge of the tape next to the cornice multiple times to keep the paint from creeping underneath.
Use multiple sizes of brushes. I used a 2½" sash brush with an angled end, a 1" brush, and a small square-ended artists' brush.
Brush new paint into old paint.
Close paint cans by putting a paper towel on the lid and stepping on it.
Buy a gallon. Two quarts cost as much as a gallon of paint, so unless you are sure you need a small amount, buy the bigger size.
Join us on this incredible journey for an up close and personal preservation story. You can even come see the finished cornice painting at Doors Open Baltimore, October 7, 2023. We love what we do; let us do it for you. We'd love to hear about your project.
Read all of the blogs in this series:
Open Door: The Preservation of the Hawley-Hutzler House
Open Door: Cleaning Ebenezer at the Hawley-Hutzler House
Open Door: Richardsonian Romanesque at the Hawley-Hutzler House
Open Door: Road Trip with the Hawley-Hutzler House
Open Door: Getting High with Hawley-Hutzler, Drones and Historic Buildings
Open Door: A Secret Garden at the Hawley-Hutzler House
Open Door: The Gilded Age of Hawley-Hutzler