Open Door: Cleaning Ebenezer at the Hawley-Hutzler House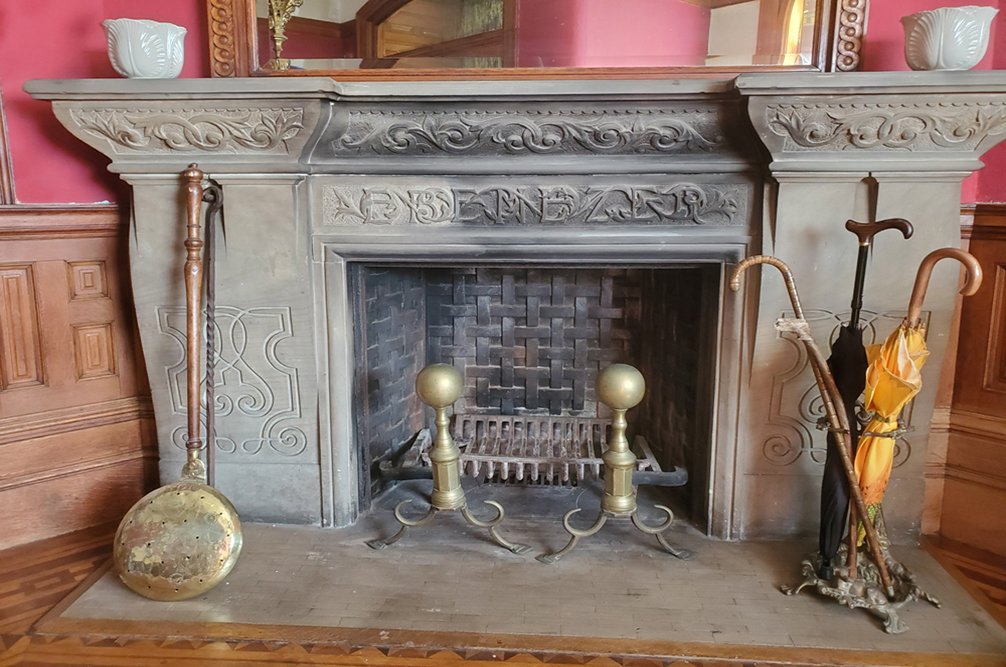 Join us on a blog journey as we walk through the preservation of the famed Hawley-Hutzler House in Baltimore, Maryland.
The Illuminating Faith to be Found in a Fireplace
The Hawley-Hutzler House front stair hall has a massive stone fireplace. At first glance it was a bit difficult to decipher the soot-blackened, ornate bas-relief letters over the firebox as the word EBENEZER. Encore has worked on a couple of Ebenezer Churches, and Martin and Mary Hawley founded a church, so we suspected a biblical reference. Eben-Ezer in Hebrew means "stone of help" and it appears in two narratives in the Bible's Books of Samuel.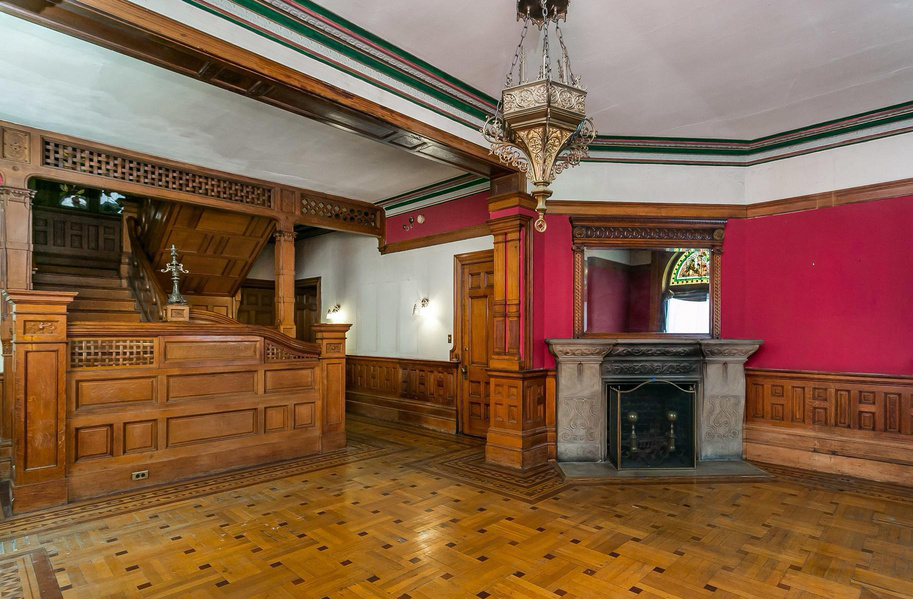 The original Eben-Ezer was a location and a stone which was set by the prophet Samuel to memorialize a battle victory of the Israelites over the Philistines, naming it Ebenezer, and saying, "Thus far the Lord has helped us." The stone and its name have come to symbolize success due to faith in God.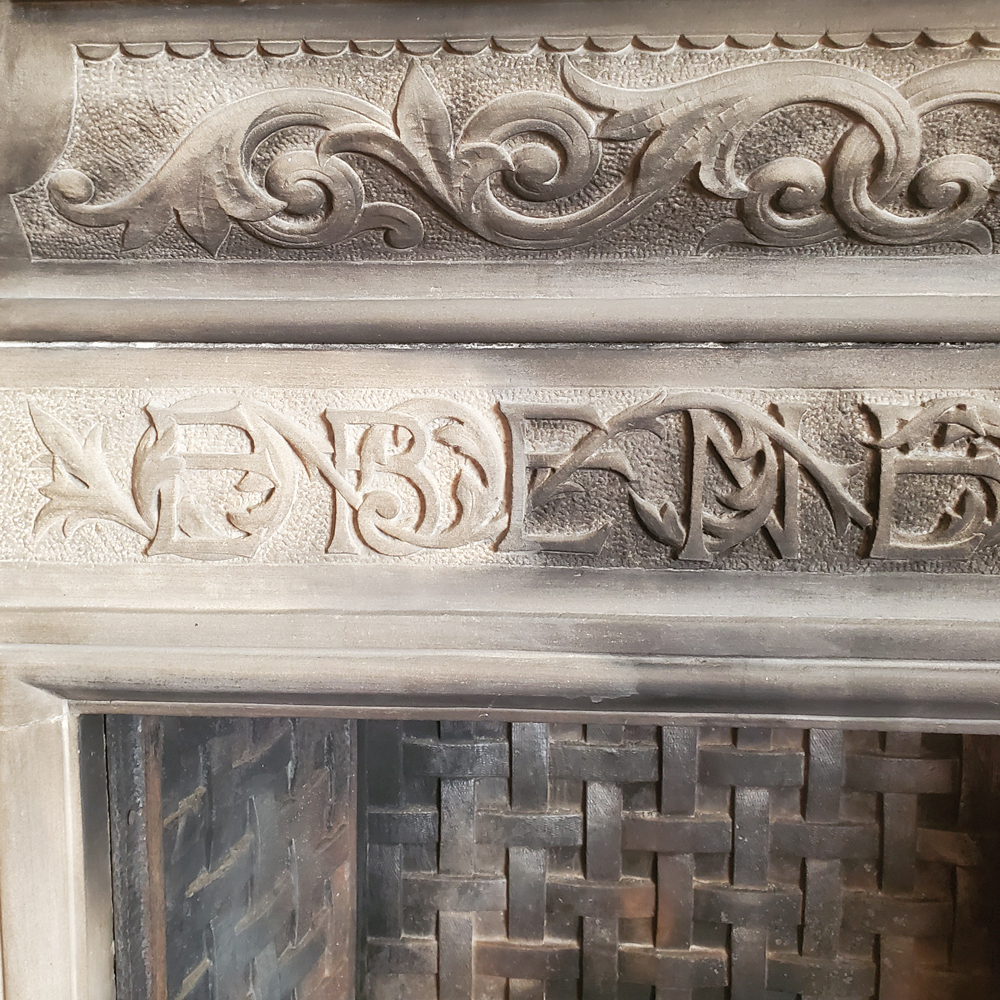 Although I have sometimes been apoplectic about the wrongheaded advice from Bob Vila on the This Old House show, Vila was right about cleaning stone in a recent blog: use just water and mild soap. Do NOT add bleach or solvent of any kind to the mixture. Household bleach is a solution of sodium hypochlorite, an extremely corrosive chemical that can damage or discolor your stone and other materials.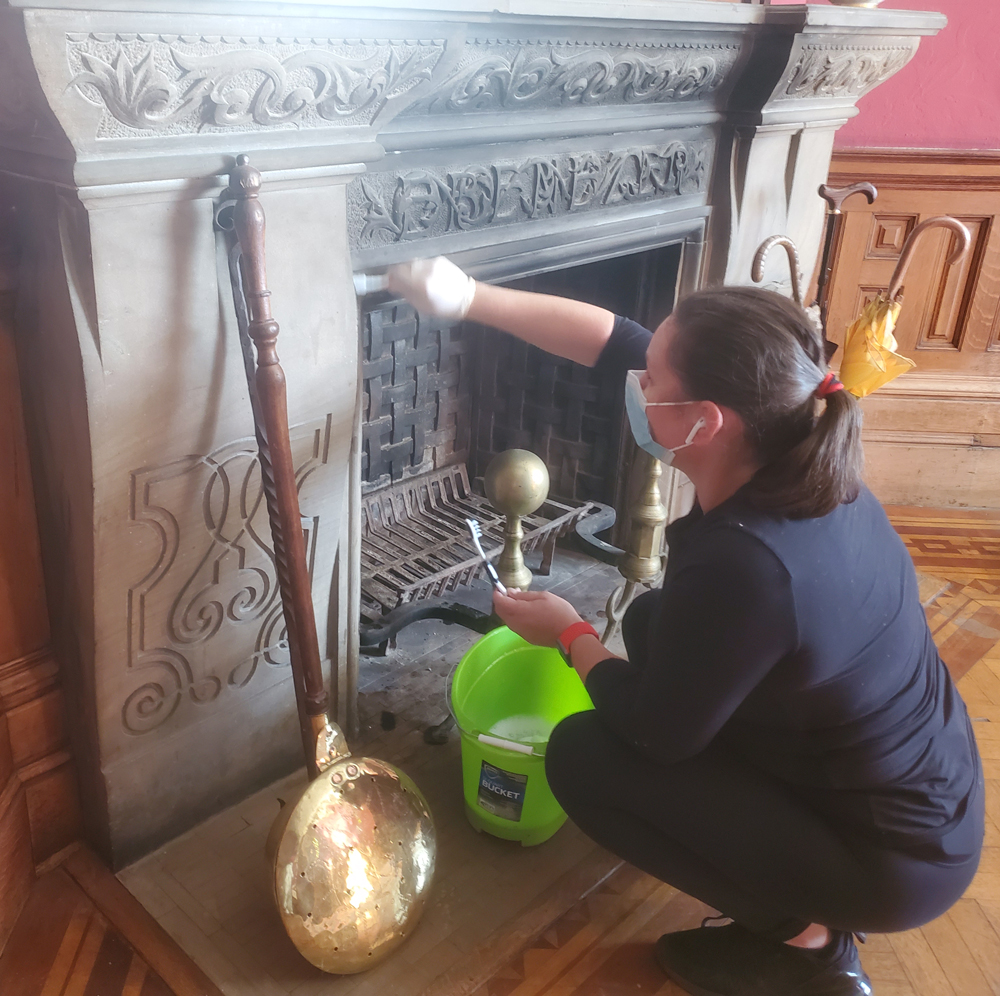 With a lot of patience and elbow grease, Dorota Chmiel, is painstakingly cleaning the stone Ebenezer letters with a toothbrush to get in between the spaces between the high relief and its surrounding detailed scrolling design. She sprays a small area with pure Dawn detergent, scrubs with the brush, and wipes off the dirt with a cloth wet with water. She initially tried scrubbing with a cloth dipped in soapy water in a bucket, but says the water gets dirty too quickly. As one can see in the photos, this low-tech approach is working surprising well.
On another note, through researching the Hawley-Hutzler House, we discovered Mr. and Mrs. Hawley had another grand house, a summer house, located 65 miles northwest from their Baltimore house. The house is called Monte Vista and is operated today as the Monte Vista Bed & Breakfast. Next door, the church they founded and built is now called the Hawley Memorial Presbyterian Church. They are located in Blue Ridge Summit, Pennsylvania and are part of the Monterey Historic District of Washington Township, Franklin County. As our research on the Hawleys' progresses, we will soon report on the Monte Vista house and the church.
Join us on this incredible journey for an up close and personal preservation story. We love what we do; let us do it for you. We'd love to hear about your project.
Read all of the blogs in this series:
Open Door: The Preservation of the Hawley-Hutzler House
Open Door: Cleaning Ebenezer at the Hawley-Hutzler House
Open Door: Richardsonian Romanesque at the Hawley-Hutzler House
Open Door: Road Trip with the Hawley-Hutzler House
Open Door: Getting High with Hawley-Hutzler, Drones and Historic Buildings