Slate Roof Restoration: Preserving Critical Protection and Historical Accuracy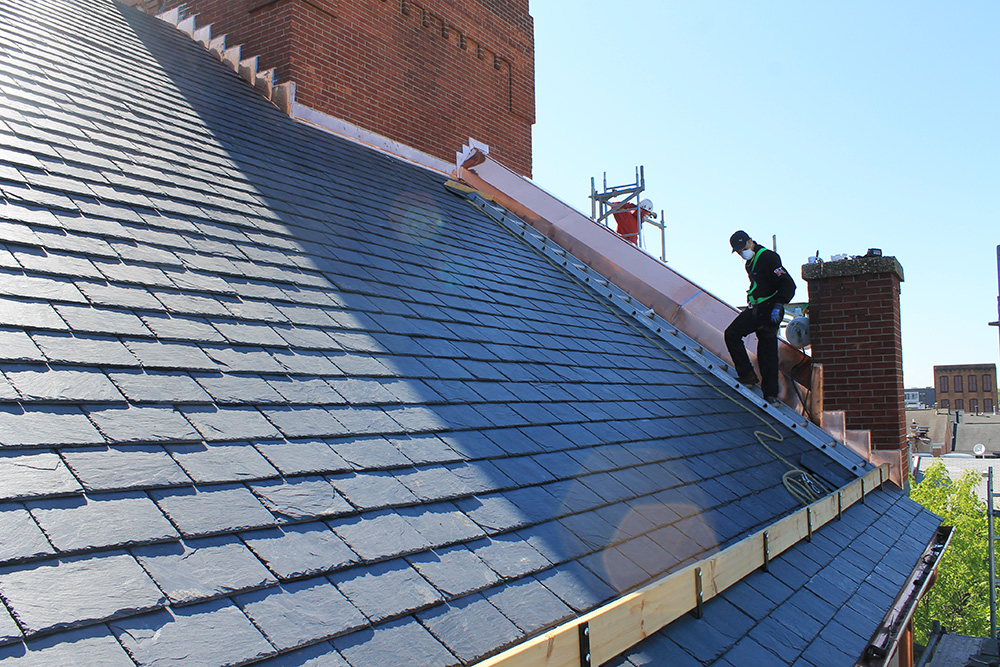 The first call to Encore is often about fixing a roof leak or pieces falling down. Investigation often finds the roofing materials or fasteners are failing due to old age. Cedar shingle roofs can last 30 years, slate roofs often last 50 to 100 years, while copper roofs can last 80 to 100 years. Like people, no roofing lasts forever.
Fixing a historic roof brings with it considerations beyond simply preserving the interior, function and structure of the building. Only some contractors and architects are trained to work on historic rather than traditional projects. If government funding is used to make repairs, there likely will be extra requirements and expectations in order to get the money.
Considerations like this make working on historic roofs particularly difficult, but also incredibly rewarding. Encore Sustainable Architects has extensive experience working with historic roofs and each has presented unique and interesting challenges. Some of our most difficult projects have given rise to some stunning results!

Waters House – Many patches hide many problems.
When we first approached the project at Waters House in Germantown, MD, it was obvious something was off even after a very brief visual assessment. Slate shingles were sliding off the 1797 section and there were many patches on the two later roof sections.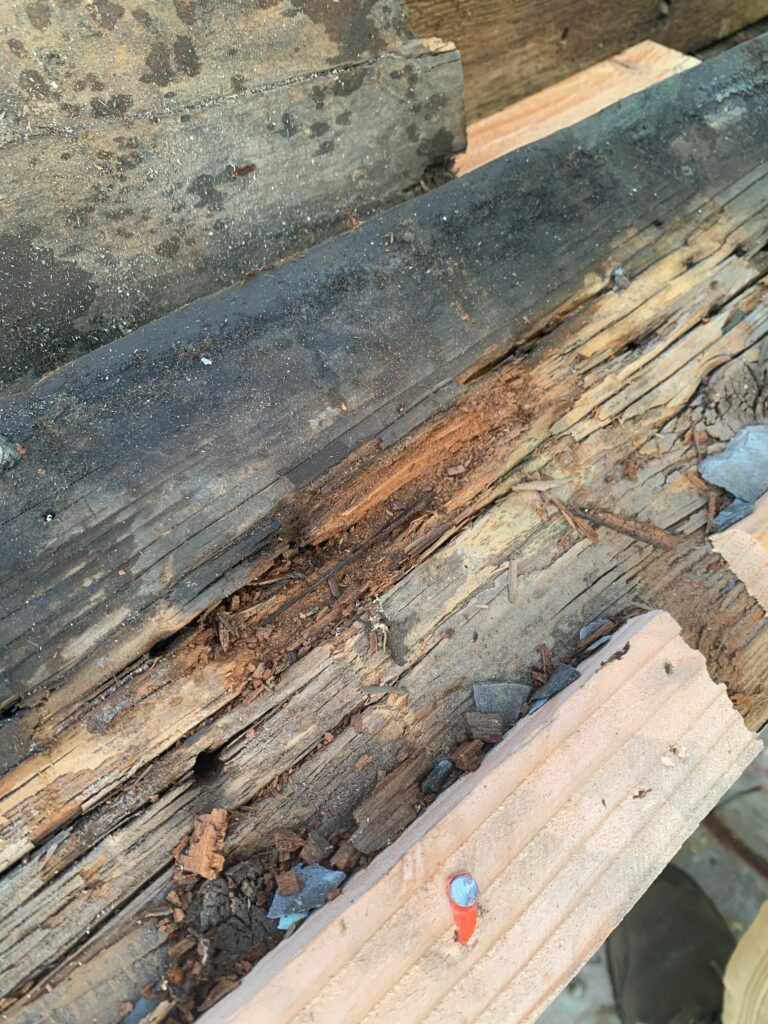 Inspecting tall and steep roofs used to require cranes or scaffolding to take a close look. Now the go to solution is drone photography. Hundreds of aerial photos are stitched together by
computer software to provide 3-D flyby images. Terry Kilby Drones, a regular partner with Encore, provided the images so we could identify areas of the most damage.
Encore proposed a mix of treatments: replace all the 1797 section slates and use the salvaged good slates to patch the later roofs. The salvaged slates were bigger than the others, so the roofers cut them down to fit. Some of the original 1797 iron snowboard brackets remained, so new ones were forged and installed with new boards. At the same time, the copper flashing trim at edges and chimneys was replaced.
As usual, there were surprises during construction. The two later roof sections had built-in gutters that had been bridged by slates but leaking. A rear shed porch roof had some rafters that were not attached at the top, causing a sag and leak. The gutters were filled in the wood and the rafters attached to the brick wall before finishing the roofing.
With funding from Montgomery County Parks and approvals by the Maryland Historic Trust, (MHT) we were able to recreate the slate roof as close to the original as possible by using approved materials governed by easements, certifications and registrations. The standards for restoring a historic building are stricter than normal, but they do make for an incredible finished project!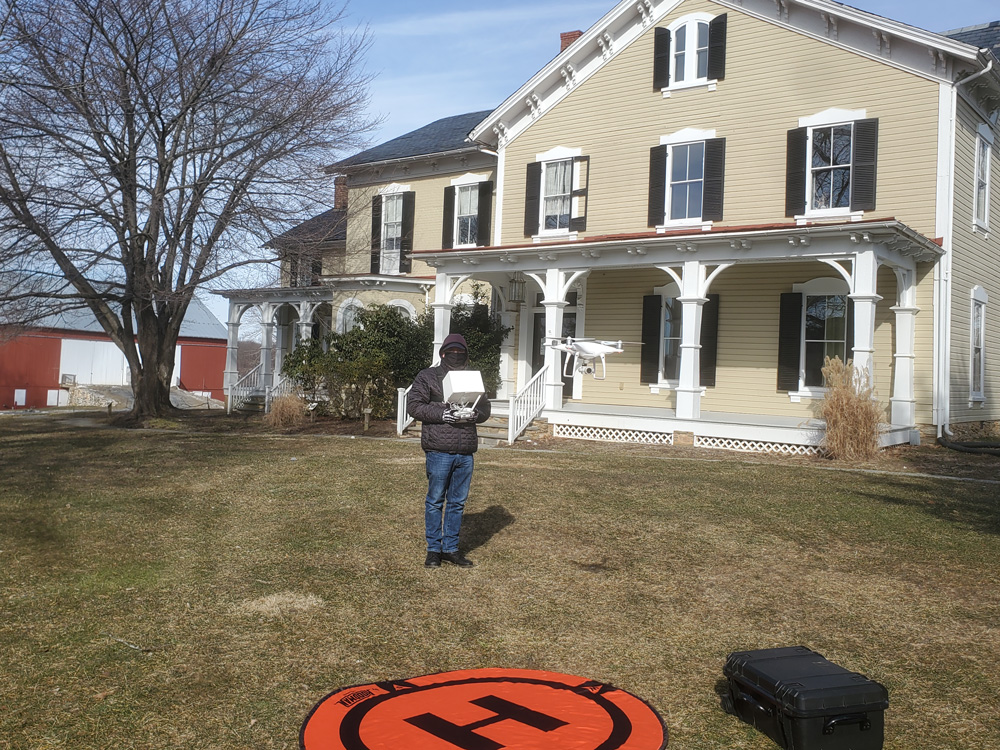 Bethel Church – Looks can be deceiving.
Bethel African Methodist Episcopal Church, Cambridge, MD presented quite a challenge and while some of the necessary repairs were obvious and visible, more came up as we made our assessment. It was clear from the interior that there was extensive damage including badly stained finishes and rotting wood. The tall corner tower was especially scary with unsafe rotted floors.
Throughout the project, Bethel Church was occupied, which also affected our work. However, prioritizing the roof was necessary before beginning restoration on the interior. Based in part on a drone survey, plans for replacing the tower and main roofs, rebuilding the tower floors and roof structure, and installing ships ladders for access were prepared. Due to limited funding, the first phase was the badly leaking tower roof.
When the contractor accessed the tower with a crane, we found the main source of leaks was a missing roof hatch with broken concrete curb that was letting in the stormwater. To prevent similar issues in the future, we chose repair methods and materials that still maintained the aesthetic look of the church itself. We used tapered roof insulation and thermoplastic polyolefin (TPO) as a roofing membrane over the existing concrete and we added aluminum coping on top of the brick walls as an added measure against water damage. The old roof drain that was connected to the sanitary sewer line was replaced and rerouted so the water drains to grade.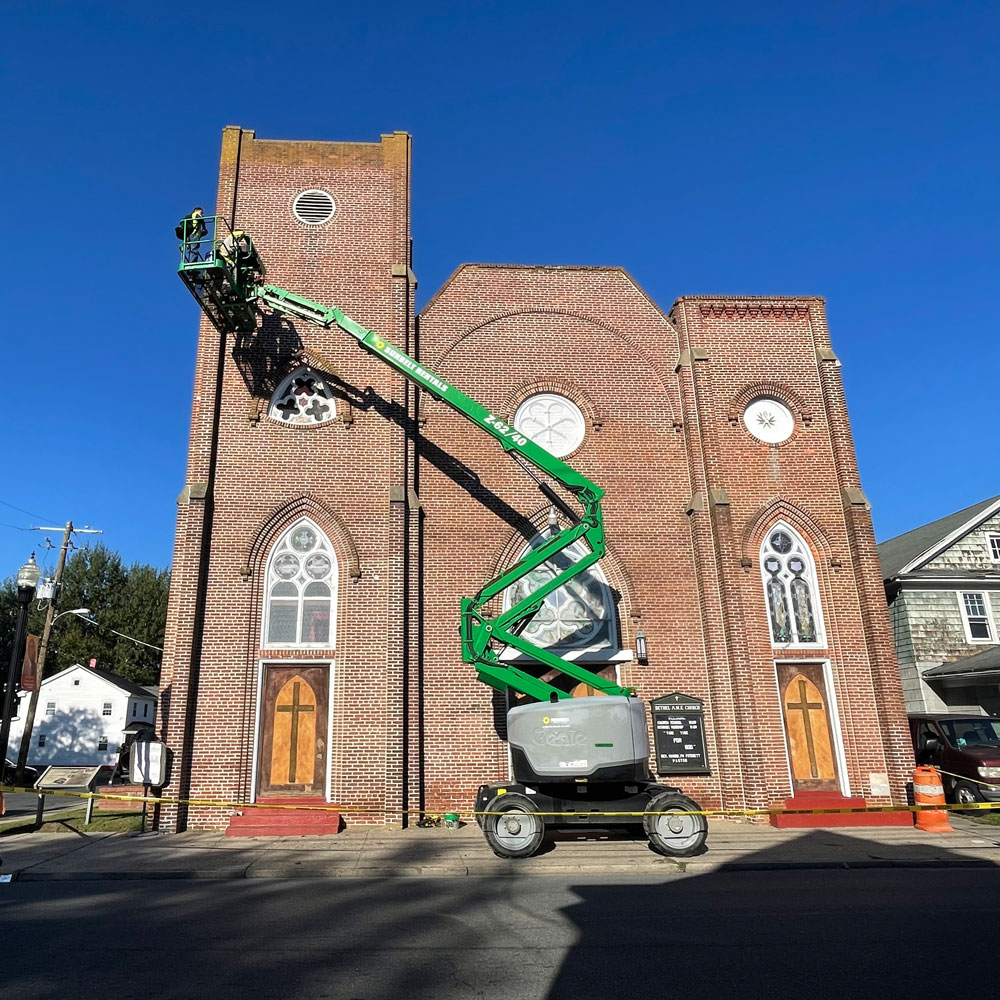 Ebenezer Church – Stay in line with historic guidelines.
For an example of the challenges of following historic preservations guidelines, Ebenezer African Methodist Episcopal Church in the Federal Hill neighborhood of Baltimore will always be top of our list. The Church had replaced the rotten parish house windows with a modern plastic version but forgot to check with the Maryland Historical Trust who had a historic easement on the property. The new windows unfortunately had to be replaced with wood windows matching the originals. It was at this point that Encore was brought in to ensure that historic specialists were guiding any work on stained glass windows and the roofing.
Ebenezer Church is in the Federal Hill National Register Historic District in Baltimore, and the neighborhood has particularly small alleyways between these brick buildings. Scaffolding for the roof repair was an issue in such a tight space! We first approached the repair with a visual assessment via drone piloted by Terry Kirby so we could delay the scaffolding need and defer some of the cost as well.
The second greatest challenge we faced with Ebenezer Church was replicating the original slate from Peach Bottom quarry near the Maryland and Pennsylvania border. The main concern was that the slate could not be the less expensive synthetic which would violate the historic restoration standards. The Peach Blossom slate was absolutely beautiful, but not available anymore. Until recently the primary option to provide an unfading black type of slate to match the original was Buckingham slate from Virginia. Unfortunately, most of the fine-grained black vein is played out and Buckingham slate is now very expensive. Durable Slate Company helped us solve this problem by suggesting a Spanish slate available at considerably less cost.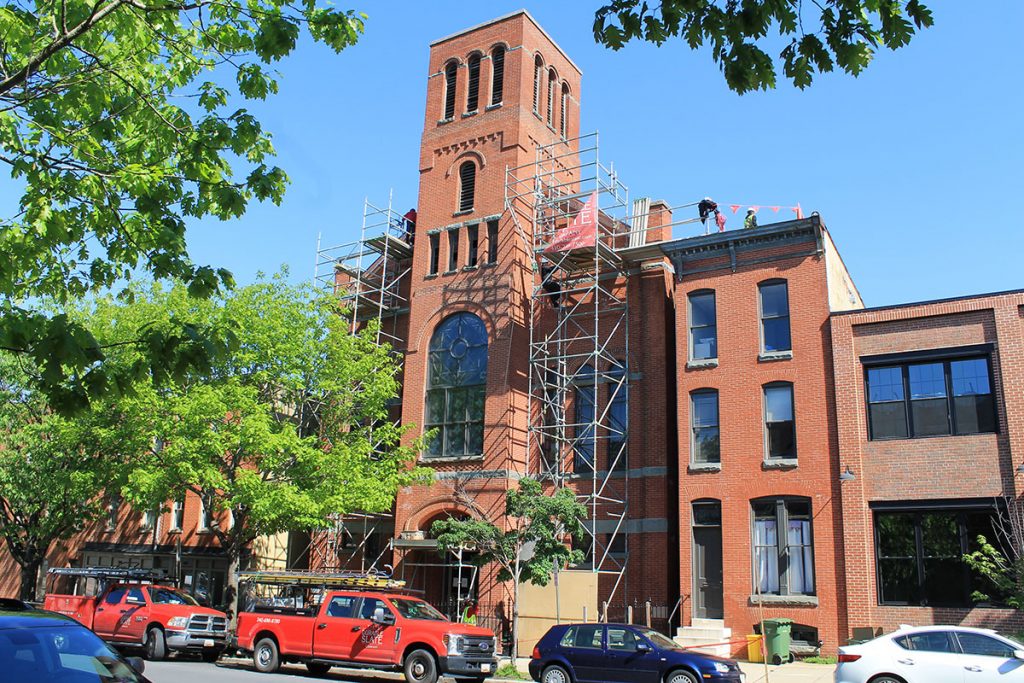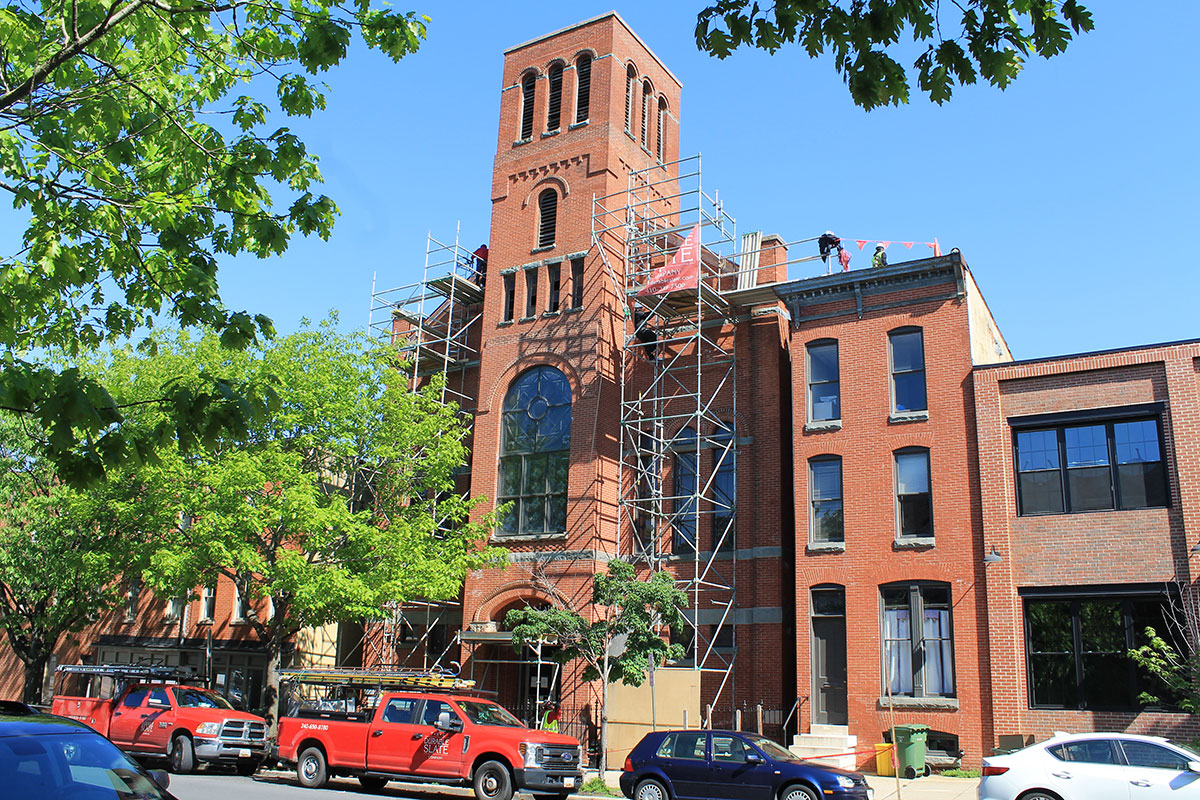 Decatur House – Slate, safety, security & scaffolding
Another slate roof that gave us some head-scratching moments was the project at Decatur House in D.C. Comprised of a main house and historic slave quarters, both buildings had slate roofs. The slate on the slave quarters was composed of larger pieces which historically were less expensive, because there was less labor in cutting down the individual shingles.
When cost is a concern, as with slate, some repairs focus on replacing individual shingles. Take care using this strategy though as this can lead to further issues down the line. In addition, slate is a very brittle material to work with, and correct installation is required to prevent the slate from cracking when it comes into contact with a projecting roof nail. Full roof repairs make this less challenging.
The final challenge we faced was a public space issue. The Decatur house location near the White House is well trafficked by the public. The building's exterior extends flush with the sidewalk, so erecting scaffolding on the sidewalk and up 3 stories was necessary. This meant additional safety concerns for pedestrians below and security measures to keep non-workers off the scaffolding that encircled the entire building.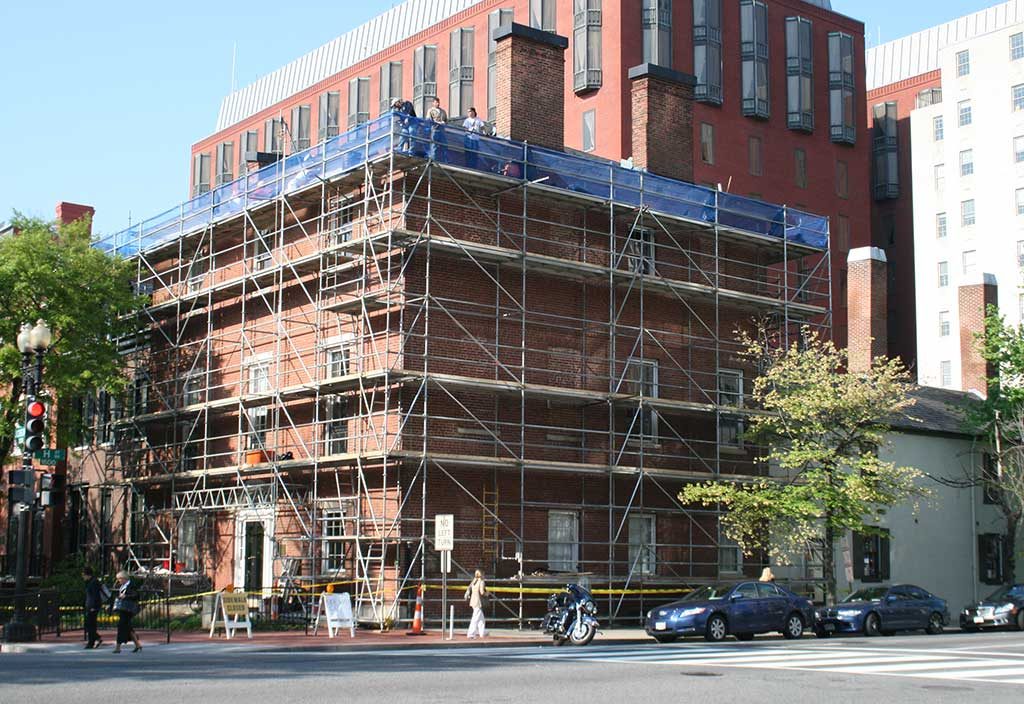 Over the years, through all of our projects, our abilities, understanding and expertise grow as we face new challenges. Every project we complete gives us a better foundation for approaching the next project. All are unique. Let's take a look at two current projects that also include historic roofing work.
Each one of these projects, completed and ongoing, gives us an opportunity to create something beautiful. Roof repairs may appear simple, but with historic properties they can quickly become complicated, costly and critical to preserving the rest of the building.
Tell us about your project. We'd be glad to assist from foundation to roof!