Open Door: Spar-king Interest in The Hawley-Hutzler Front Doors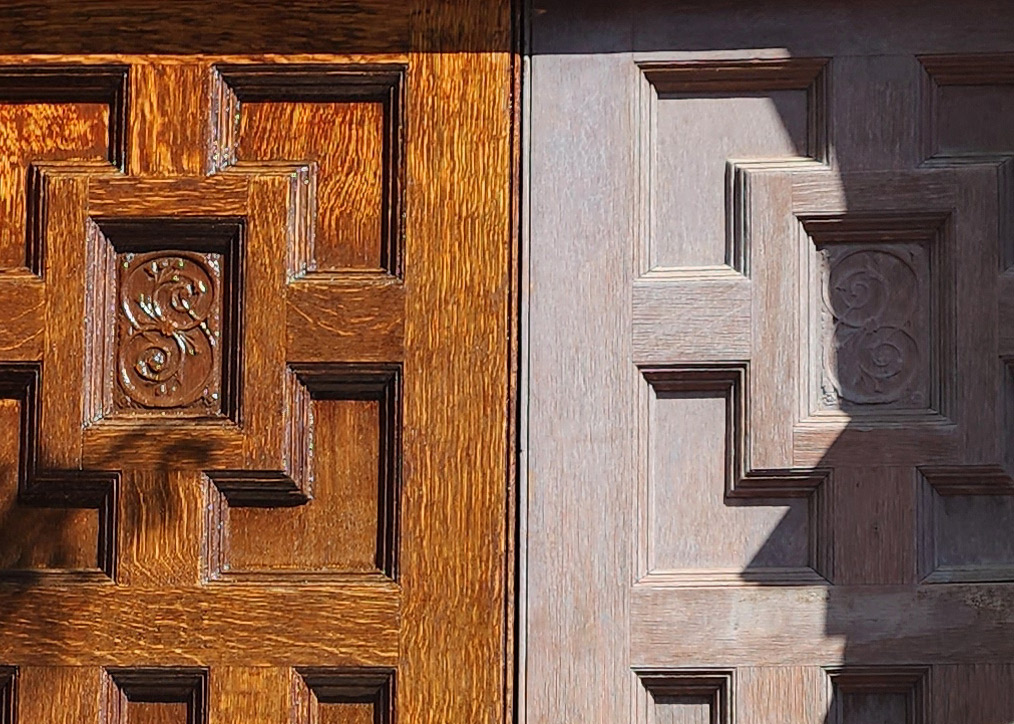 The imposing pair of paneled doors at the front entrance of the Hawley-Hutzler House are three-feet
wide, eight-feet tall and three-inches thick. The oak veneer finish is a half-inch thick, 8 times thicker than
the normal 1/16-inch thick door veneer. Why is everything so oversized? My theory is that the answer
has to do with churches.
In 1886 Martin and Mary Hawley bought a vacant lot on Eutaw Place and hired Thomas C. Kennedy, AIA to design their house. Kennedy's main gig was designing churches and institutional buildings, virtually all in the Romanesque Revival style. Churches need wide stairs and doorways and heavy-duty components to accommodate and survive throngs of visitors. Kennedy used some of these standard church features for his house designs.
A thin edge of the doors hidden by the jambs from sunlight and rain revealed the original finish was
varnish, not paint. Most likely this would have been spar varnish named for the wood spars of sailing
ships. But after 136 years the varnish was mostly gone or turned a chalky, slightly pinkish gray. The oak,
which naturally has large surface pores, was deteriorated and some of the veneer panels were loose at
the bottom of the doors. I decided to refinish the doors in place because experience with the two-inch
thick interior doors demonstrated that they are incredibly heavy and hard to reinstall.
Repairs started with sanding with an orbital sander with a fine 320 grit sandpaper which had no visible
effect on the dense old wood. Hours of sanding with a rougher 180 grit sandpaper improved the flat
areas. The orbital sander couldn't reach inside the curves of the moldings around each panel, and the
sander was too wide to reach the flat panels. I switched to a flap sander wheel in a handheld drill for the
moldings and a folded piece of sandpaper to hand sand the flat and raised panels.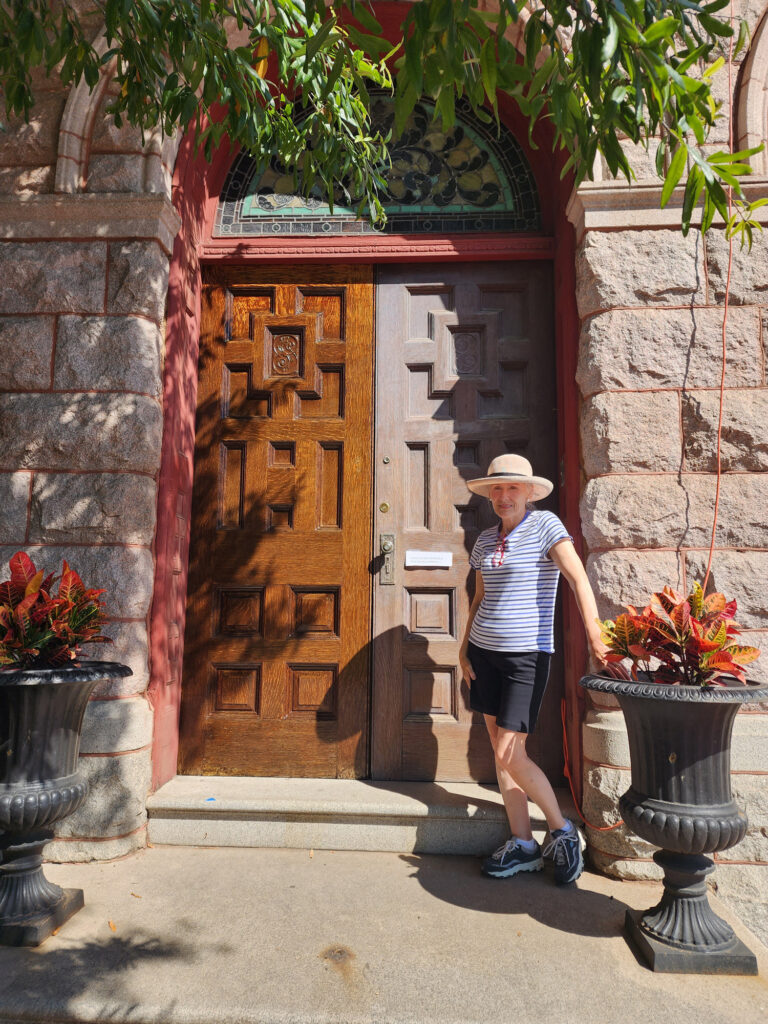 After sanding, I used narrow exterior trim screws to reattach the loose veneer pieces. The small chipped areas at the bottom were filled with Min-wax Wood Filler, then later sanded and stained. Two coats of Aqua Coat grain filler, which dries clear, were applied to fill the pores and eroded areas.
Several people recommended using a tung oil finish, which soaks into the wood and gives a deep, lustrous glow to the wood. Unfortunately, the oil finishes don't hold up long-term to the ultraviolet (UV) rays of the sun, and they don't look like spar varnish. Traditional spar varnish is still readily available but chips or cracks over time. Newer polyurethane spar varnishes are more UV resistant but reportedly
don't hold up more than three years in direct sunlight. The daily afternoon sun and my time owning an
all-teak sailboat on the Eastern Shore of Maryland led me to select Sikkens Cetol Glossy with inherent
UV protection as the varnish. The aged wood is naturally dark so no stains or tinted varnish was needed.
I lightly sanded the first cost of Cetol to remove trapped dust particles, then applied two more coats.
Luckily no rain or fog and low wind speed during those days. I love hearing the many approving comments from neighbors!
Learn More About Baltimore's Historic Hawley-Hutzler House
The story of the Hawley-Hutzler House begins in 1887 when Martin Hawley, a prominent player in the lumber business, built one of Baltimore's largest homes of its time for $70,000.
Throughout this 8,000 square foot Victorian mansion, all of the rooms are designed in unique ways. Each room features a different species of wood used in stunning millwork, arches, paneling and carved details. Whether Hawley used whatever surplus lumber was available through his business, or the eclectic mix of wood was a deliberate, creative decision, the result is spectacular.
Curious? Read all of the blogs about this project:
Open Door: The Preservation of the Hawley-Hutzler House
Open Door: Cleaning Ebenezer at the Hawley-Hutzler House
Open Door: Richardsonian Romanesque at the Hawley-Hutzler House
Open Door: Road Trip with the Hawley-Hutzler House
Open Door: Getting High with Hawley-Hutzler, Drones and Historic Buildings
Open Door: A Secret Garden at the Hawley-Hutzler House