Open Door: Visiting Historic Plaster Heaven via Hawley-Hutzler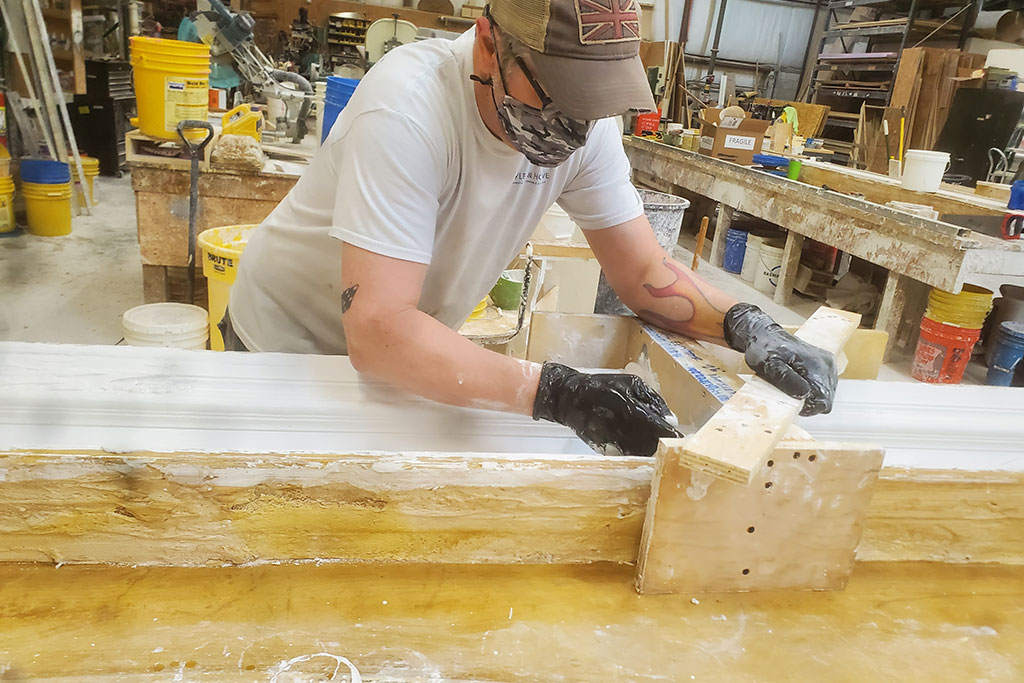 Join us on a blog journey as we walk through the preservation of the famed Hawley-Hutzler House in Baltimore, Maryland.
New plaster cornices are being installed on the second floor of the historic Hawley-Hutzler House to replace water damaged and altogether missing ones. We are lucky to have the outstanding Hayles and Howe (H&H) plaster and scagliolo studio just four minutes away. This week we were invited to watch H&H craftsmen in action. They stripped the many layers of paint from a narrow band of each different cornice, cut a thin slot, inserted stiff paper and drew the cornice profile. I was surprised at how much detail had been filled in over the years by the paint.
These particular cornices are "run" moldings without applied or carved decoration. So, H&H runs ten foot long sections in their shop and brings them to Hawley-Hutzler House for installation. The team saw Jim up on a platform attaching the replacement pieces to the ceiling and walls in the Day Room. Gaps are left between pieces to be filled in later by hand.
We head over to H&H to watch "Brains" run some of our cornices in the shop. A V-shaped trough is set
up on the work bench, and a horse that hold a metal profile with the exact negative shape of the cornice
is built. He applies wood lath strips and fiberglass mesh to the inside of the trough and sticks them in
place with very soupy plaster. Then more plaster is scooped out of the mixing tank with a cup and
liberally spread along the trough by wiggling his hands. The plaster is very temperature sensitive, so he
avoids putting his hands in the tank.
As he works the plaster gets thick like peanut butter. The horse is pulled along the trough scraping and
pushing the plaster into shape. Donut grease (cheaper than Crisco) keeps the horse from sticking or
chattering. At the end of each run, excess plaster is scraped off the horse and added where there are
gaps. The plaster quickly starts to set up and the surface changes from textured to glossy. After a dozen
runs, it's done. Although the moldings can be removed in about an hour, it takes 24 to 36 hours for
them to dry completely.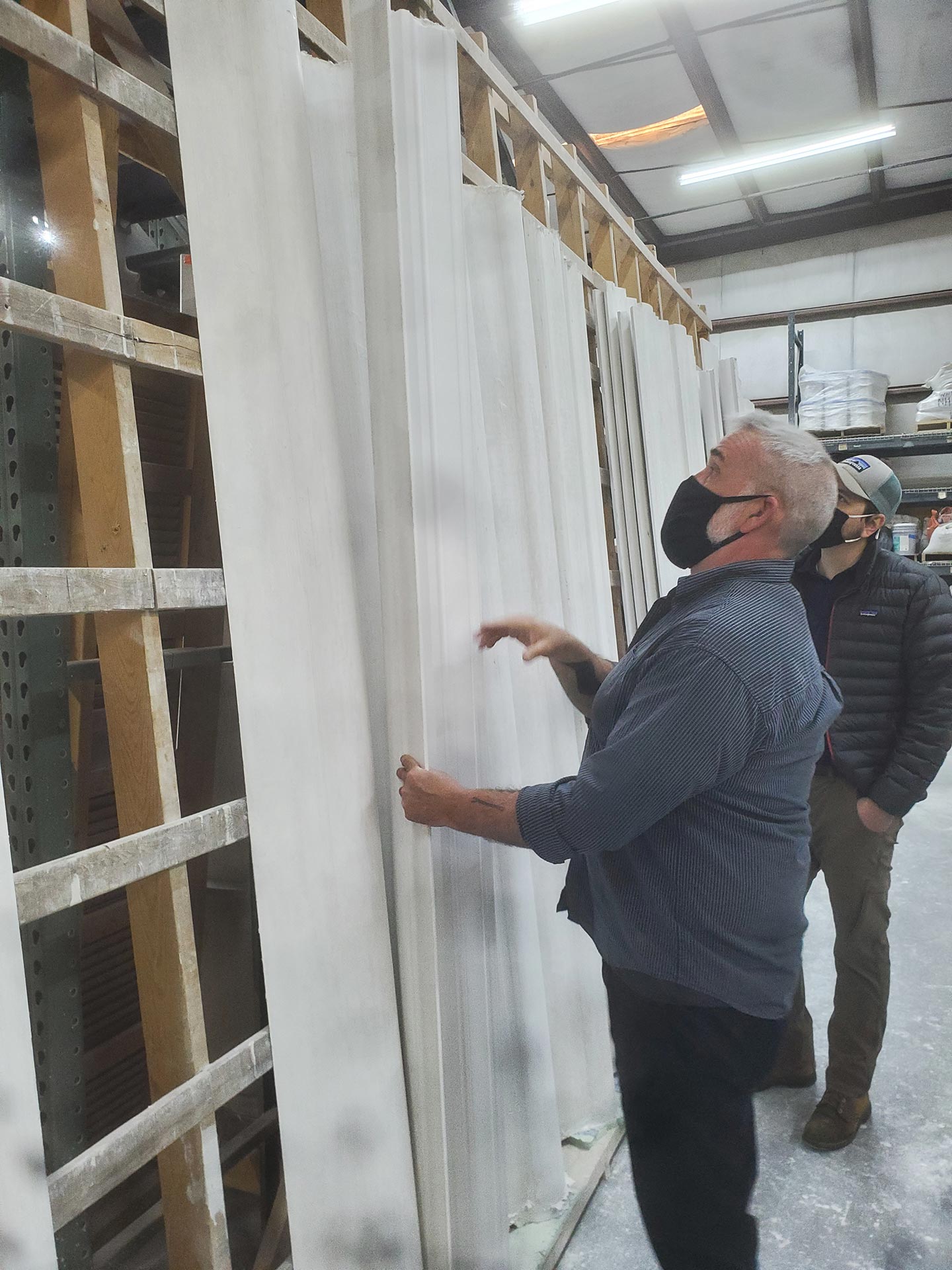 Marc Berrong showed us where our cornice sections were stacked vertically and some pieces destined
for the McCormick House of Representatives office building in Washington, DC. We also saw many
fabulous samples from other projects. We were impressed by the scagliola columns in many different
colors and patterns, some not found in nature. What is scagliola? It is a hard, multicolored polished
plaster, often used for faux marble.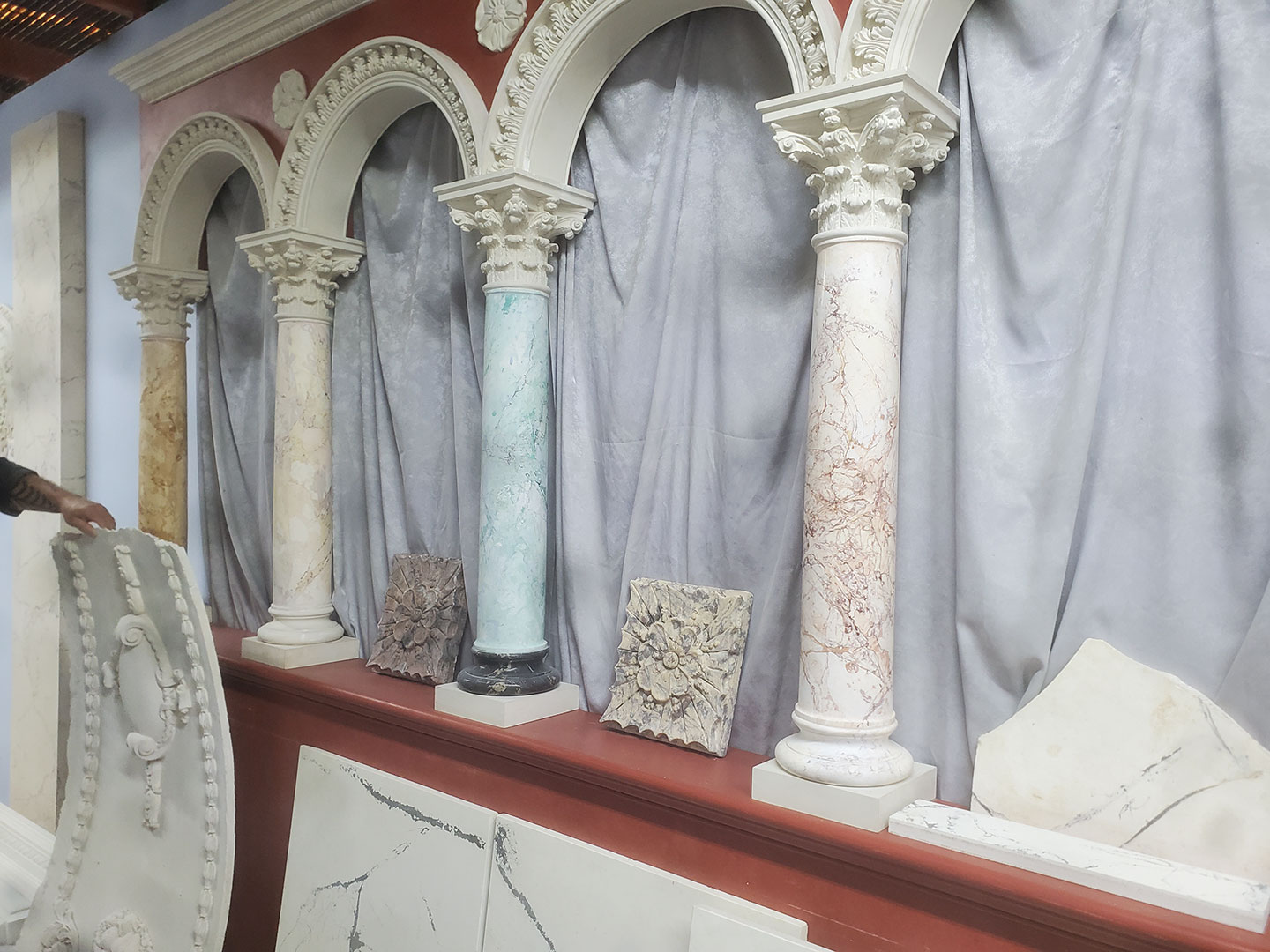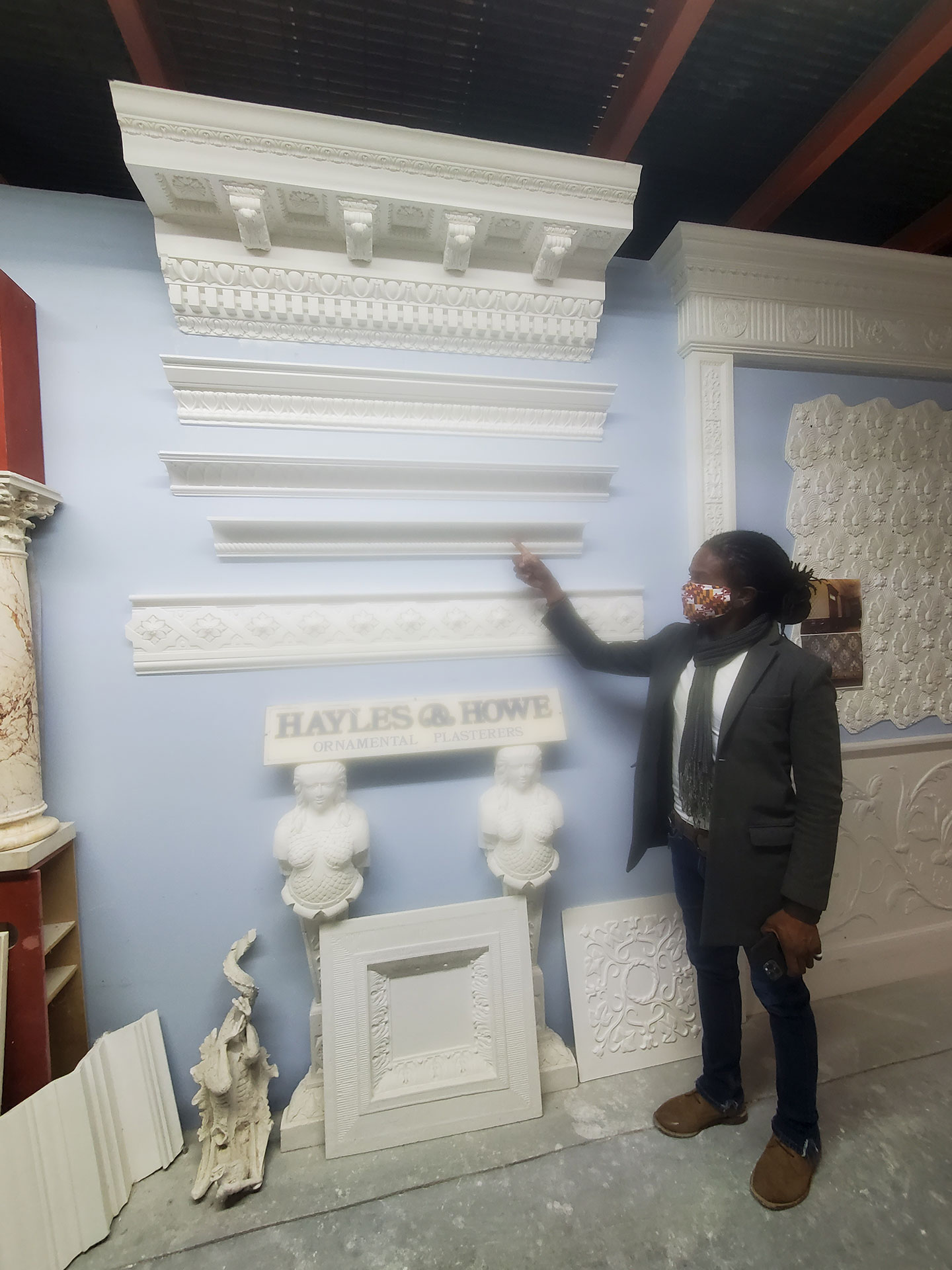 Lisa disappeared for a while looking at the molds stored on the mezzanine. She believed Marc when he said, "We can make anything!"
Join us on this incredible journey for an up close and personal preservation story. We love what we do; let us do it for you. We'd love to hear about your project.
Read all of the blogs in this series:
Open Door: The Preservation of the Hawley-Hutzler House
Open Door: Cleaning Ebenezer at the Hawley-Hutzler House
Open Door: Richardsonian Romanesque at the Hawley-Hutzler House
Open Door: Road Trip with the Hawley-Hutzler House
Open Door: Getting High with Hawley-Hutzler, Drones and Historic Buildings
Open Door: Visiting Plaster Heaven via Hawley-Hutzler