#EncoreEatsBaltimore – Satisfying the Architect's Appetite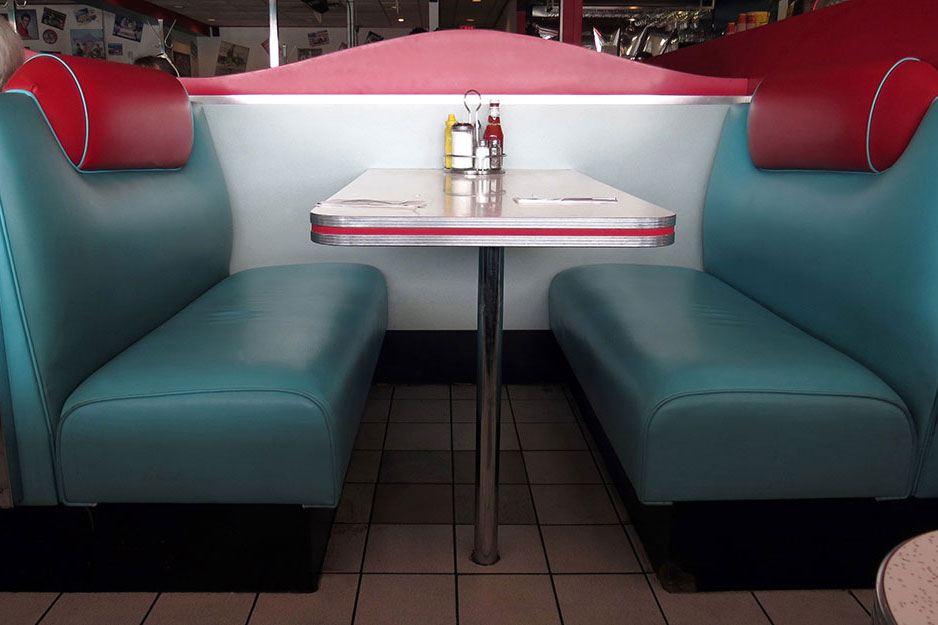 Long hours slaving over the drawing board can make an architect peckish. Pull up a chair and join architect Ward Bucher as he explores Baltimore's cuisine, characters and architecture one forkful at a time.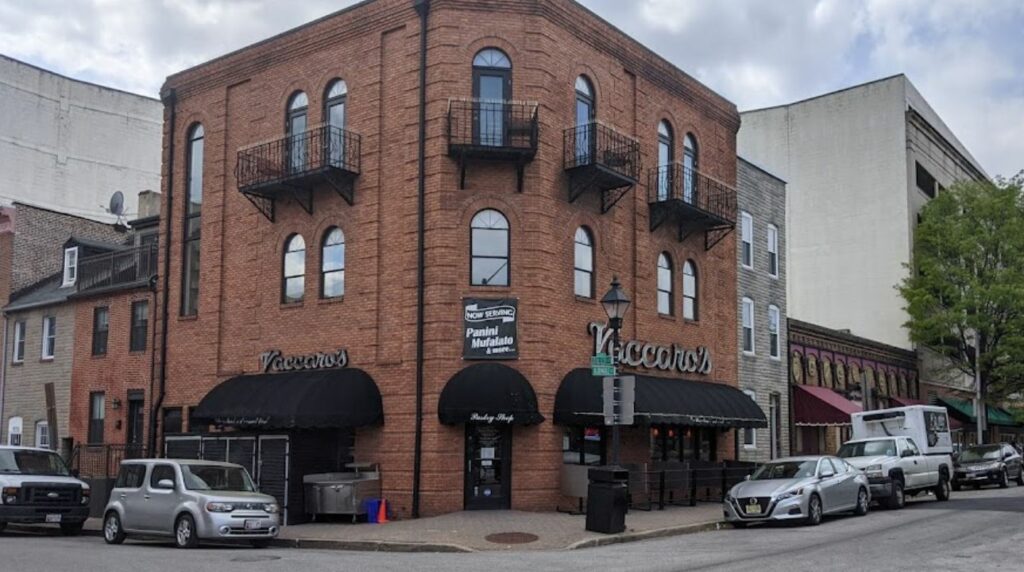 Vaccaro's Italian Pastry Shop – 222 Albemarle Street
We arrived early at the Kohler plumbing showroom in Little Italy (Piccola Italia) and walked around the corner to Vaccaro's Italian Pastry Shop. Vaccaro's was founded in 1956 by Giacchino Vaccaro who brought his fine Siciliano pastry recipes to Baltimoreans, and they fell in love. Almost 70 years later, his son Nick Vaccaro carries on (and expanded) the family enterprise. I bought my favorite: the crunchy chocolate almond Croccantini cookies while eyeing dozens of other pastries and the bins of gelato.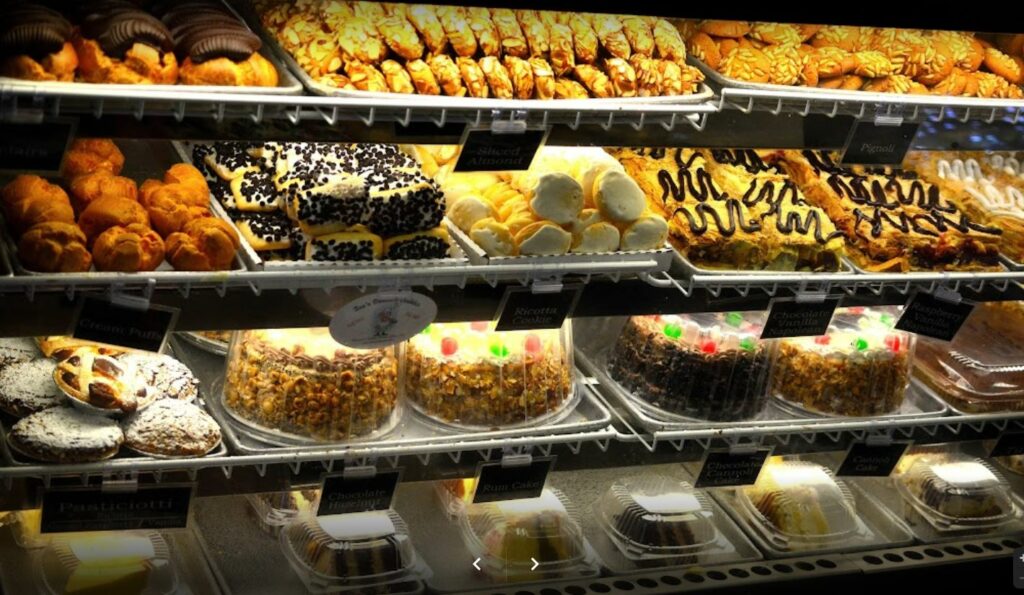 Lisa had skipped lunch, so we then walked a block on Stiles Street to Isabella's Brick Oven Pizza and Panini. This tiny corner store is over a hundred years old and has a hefty menu with lots of unique combinations. Lisa got the veggie sandwich, and we sat outside on the sidewalk bench enjoying the weather and the delicious food.
Isabella's Brick Oven – 221 S. High Street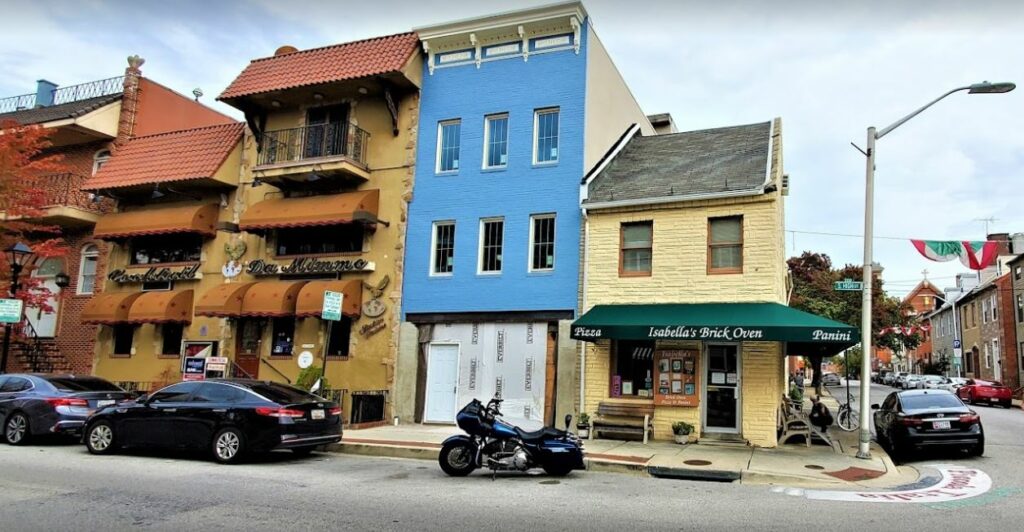 Afterwards we were pleasantly surprised at how nice the Kohler showroom was arranged with room sized spaces with a big variety fixtures and faucets. We were amused by the electric toilets that greeted us by lifting their lids, but selected somewhat more traditional fixtures for the Hawley-Hutzler House.

Werner's Diner – 231 East Redwood Street
Located a few blocks from our office, after the Covid-19 shutdown, Werner's restaurant in Baltimore has reopened. A downtown institution since 1950, it was once a film set for the "House of Cards" Netfilx series. The interior is reminiscent of an old diner with a similar menu yet with a twist of added Greek selections.
The usual lunch crowd was absent today, so we got super service from the single waitress. The streamline interior was scrubbed spotless. For the first time I noticed how the horizontal metal stripes on the walls continued in wood to clamp the octagonal mirrors in place, as well as other small, simple yet delightful architectural details.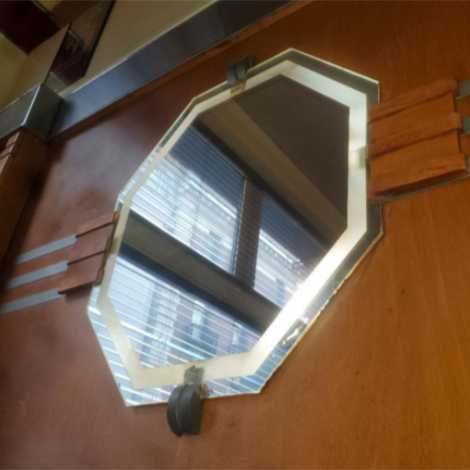 I tried the Roma sandwich with grilled chicken breast, and fried spinach and red bell-peppers and my mouth was impressed. The side of sweet-potato fries was sweetly delicious as always. Lisa had a BLT on toasted rye and said it exceeded expectations.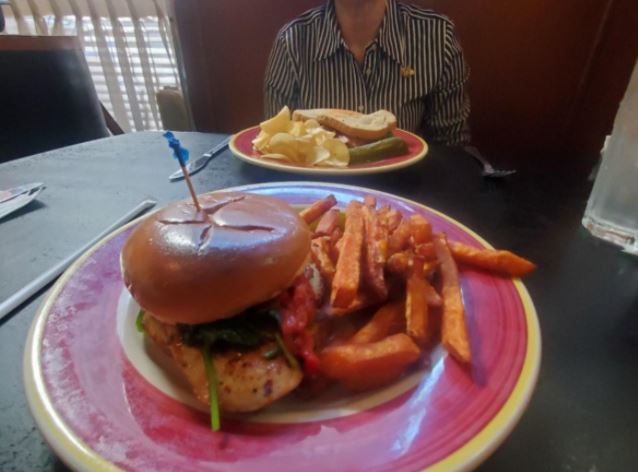 The Roma Chicken Sandwich at Werner's
Fogo de Chao – 400 E. Pratt Street
Working on a Saturday morning we found most of our usual lunch places closed. Lisa wanted to show me the façade of the Gayety Theatre building so we wandered east to "The Block" on Baltimore Street. To my surprise, above the modern Hustler Club marquee was a marvelous collection of brightly colored terra cotta heads and decorations. Built as a mainstream burlesque theater in 1906, "The elaborate ornament of the Gayety façade typifies the exuberance of turn-of-the-20th century theater design as a subgenre, in this case drawing on both Baroque and Art Nouveau ornament for its eye-catching and fanciful decorative vocabulary."[1]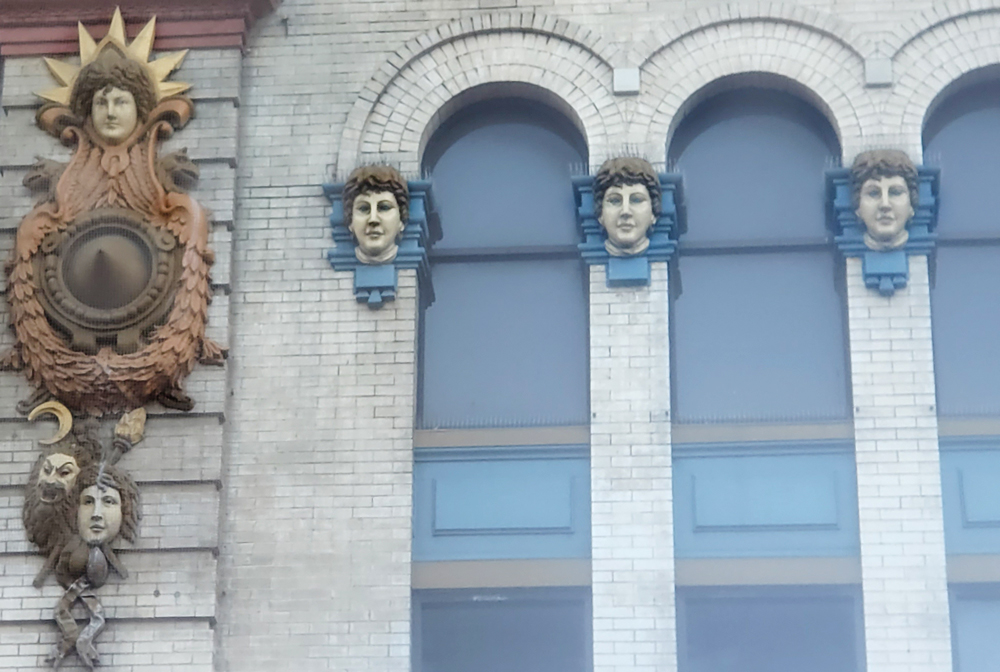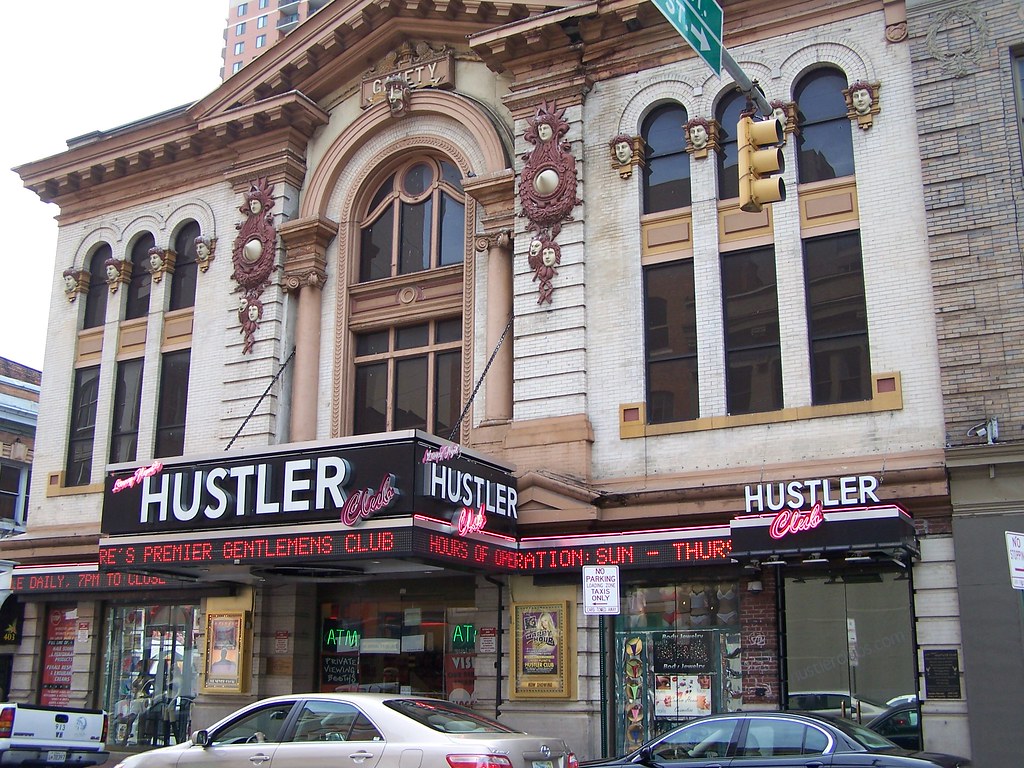 From there we wandered south to Pratt Street, past the chain eateries, and wound up at Fogo de Chao Churrascaria (which apparently means "steakhouse" in Portuguese). Not being big red meat eaters, especially at lunch, we were a bit dubious, but cold and hunger overcame our reluctance.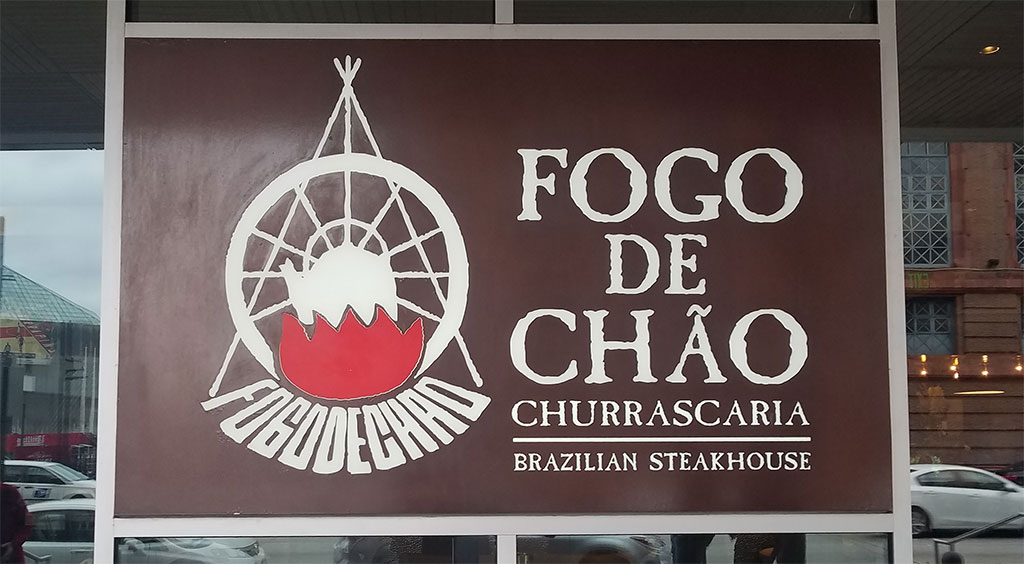 On the way to our table I was blown away by the largest vegetable and fruit buffet table I've ever seen. The menu was indeed heavy on meat dishes and the waitress encouraged us to try the Full Churrasco Experience with unlimited meat served by roving waiters carrying giant skewers of meat and fowl. We opted for the Market Table and were delighted by the variety and quality of the dishes. I had a heaping plate full of tiny servings of a couple dozen grilled vegetables and sliced fruits, plus an omelet and samples of salmon, prosciutto and salami. Their website indicates a similar, more modestly priced, Gaucho Lunch during the week.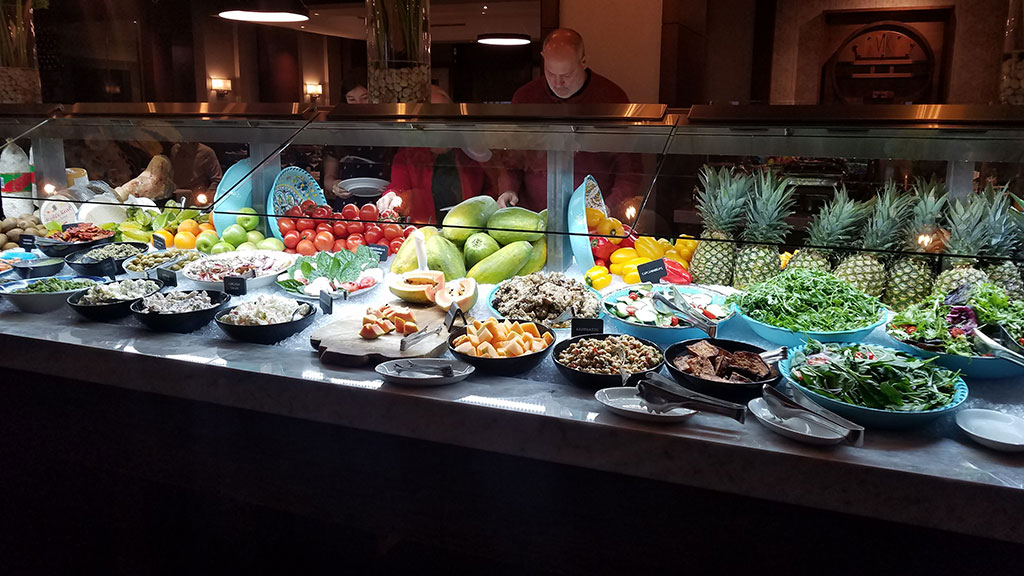 Situated in a modern office building, the large interior is sleekly International Style. The design of the open glasses rack between the bar at the front and the dining area was especially creative. Behind a floor to ceiling glass wall in the dining room is a large selection of wines.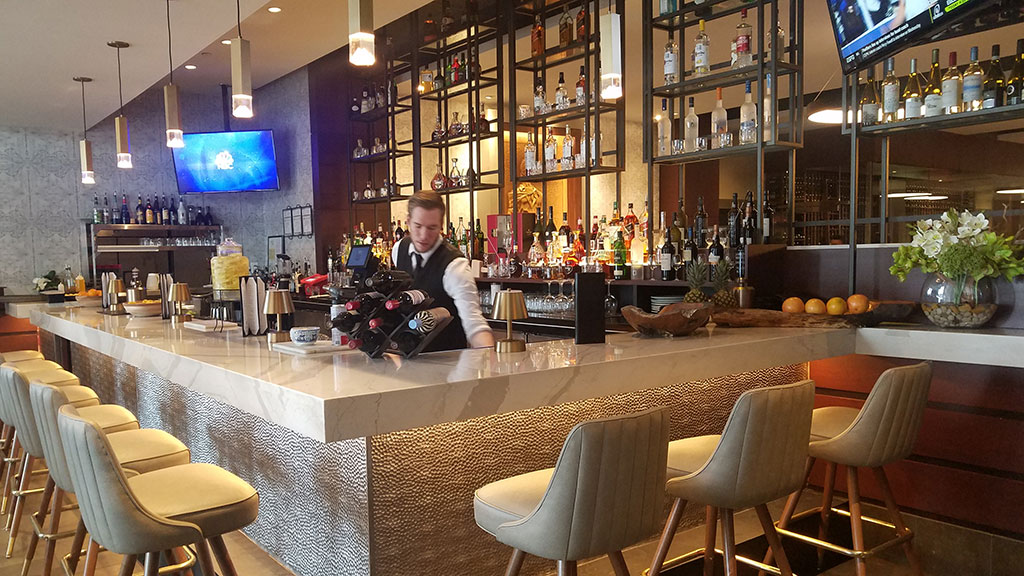 So, if you are visiting the National Aquarium or the Power Plant at the Inner Harbor, skip the Shake Shack, etc. and get a great meal across Pratt Street at Fogo de Chao.
---
[1] Baltimore Heritage Digital Collections website.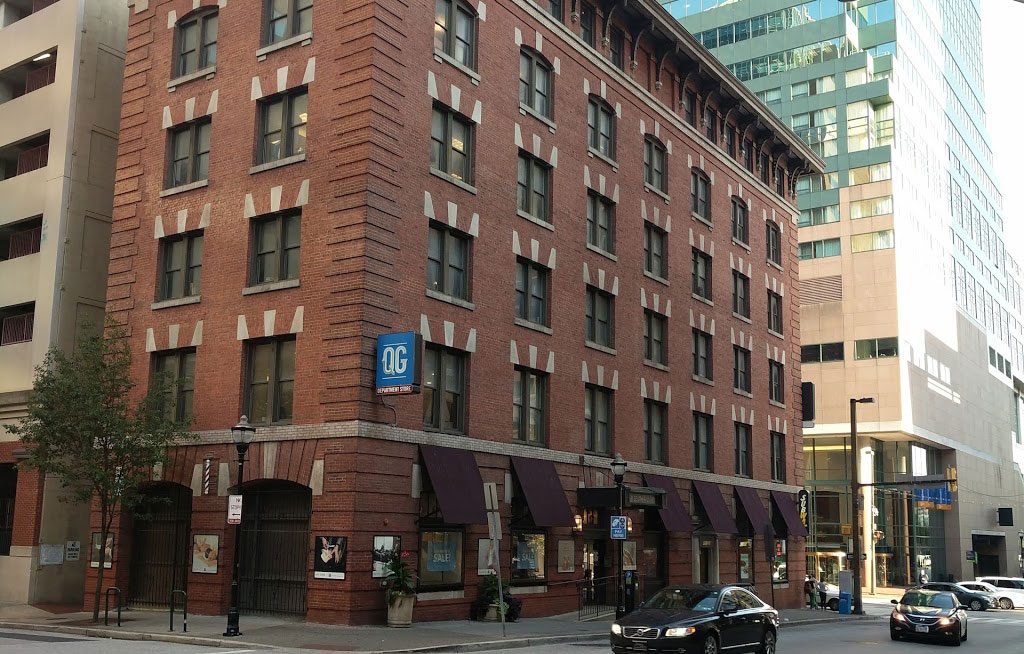 Clock Restoration – 31 S. Calvert St.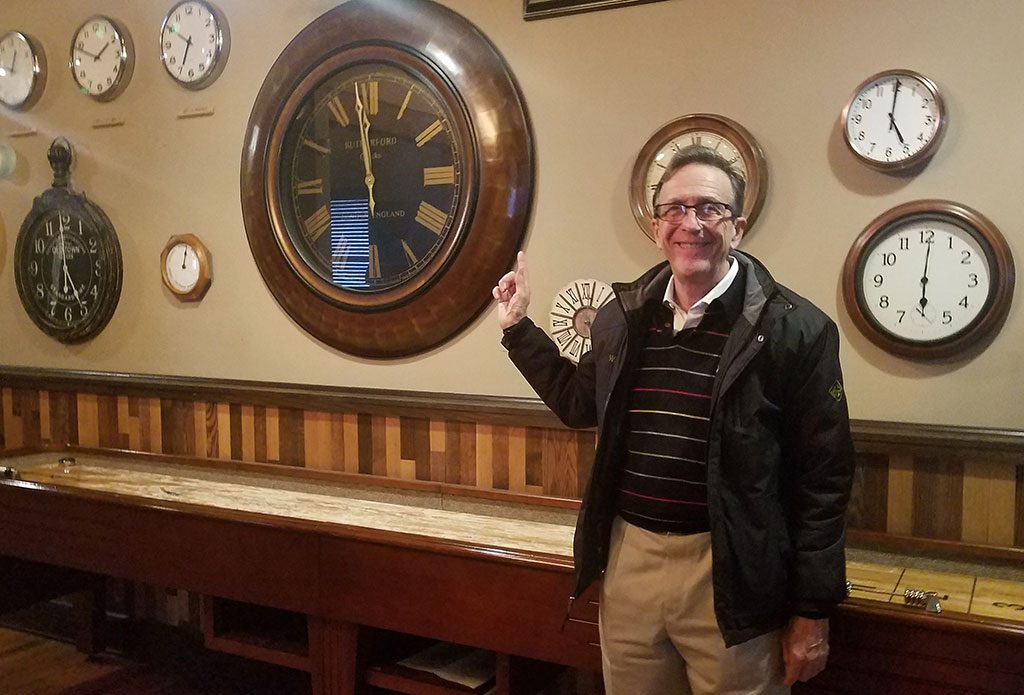 It started with a haircut at QG, the Quinntessential Gentleman for short. In search of a better cut, I found six stories of bespoke men's services and style in a 1905 downtown building, crowned by the Clock Restoration restaurant and bar. I'd admired this beefy brick building before with its massive bracketed cornice and mysteriously simple QG sign. The side entrance on Calvert Street leads to a reception area with two receptionists and the elevator.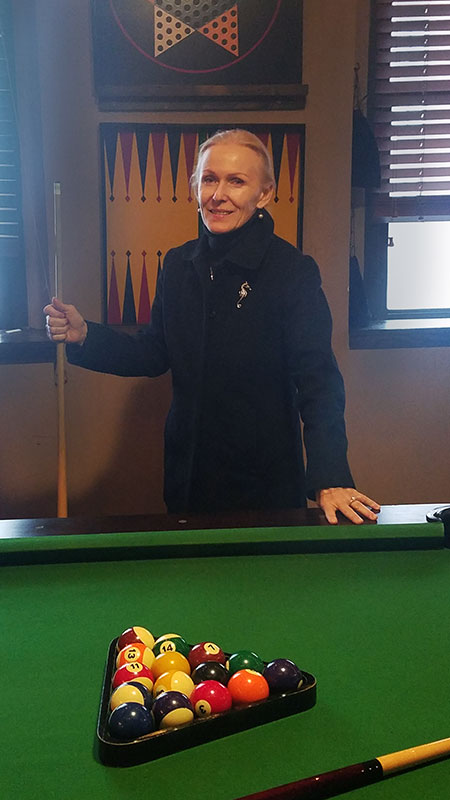 The restaurant is named for the former jeweler, clock and watch repair shop located at the site, and its walls – covered in clock faces – pay homage . For lunch, our friendly waitress brought us deviled eggs with crispy capers and a blackened chicken Cobb salad.
After lunch my wife, Lisa, and I checked out the pool table in the rear. I thought the building concept was great but the food was average. I haven't explored the menswear, spa and cigar bar floors yet at QG, but my wife loved the haircut, and I am now a regular customer.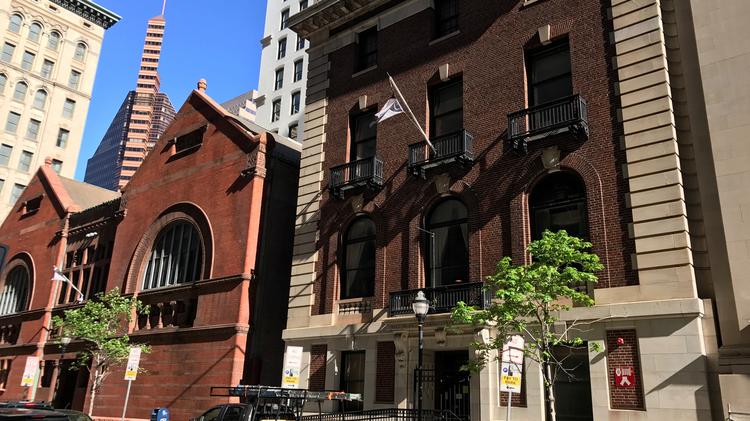 Chez Hugo – 206 East Redwood St.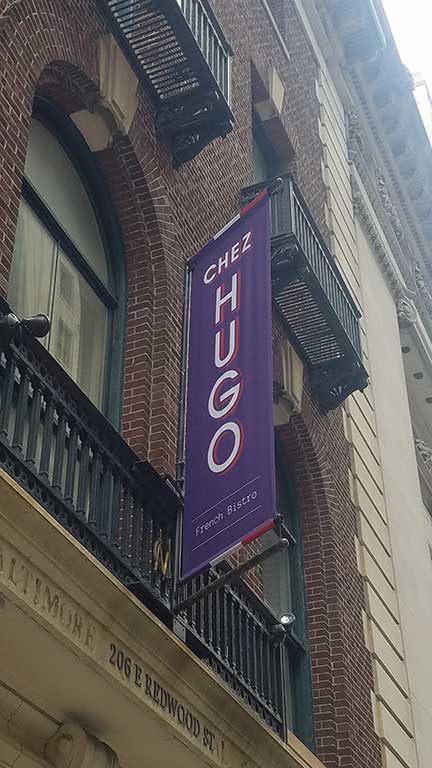 Interested in authentic French cuisine with a twist? Chez Hugo, just three blocks off Baltimore's Inner Harbor) fits the bill, literally! Located at 206 E. Redwood Street, it sits next door to the Chesapeake Shakespeare Company. The restaurant is named after the restaurant owner and chef's son, Hugo.
Pairing the two for a night out is truly a Baltimore cultural treat: history, theatre, french cuisine. What more could you want? Historically, the theatre is a visual treat operating out of a restored bank, the Romanesque Mercantile Trust & Deposit Company opened in 1886. The Chez Hugo bistro pulls its interior design cues from the same era, continuing the romance of an evening out with tiling, artwork and atmosphere reminiscent of a time when les artistes would gather post-theatre for lengthy conversations paired with sumptuous victuals. There are even seasonal absinthes to be had that give nod to the luxuriating cafe haunts of bygone evenings.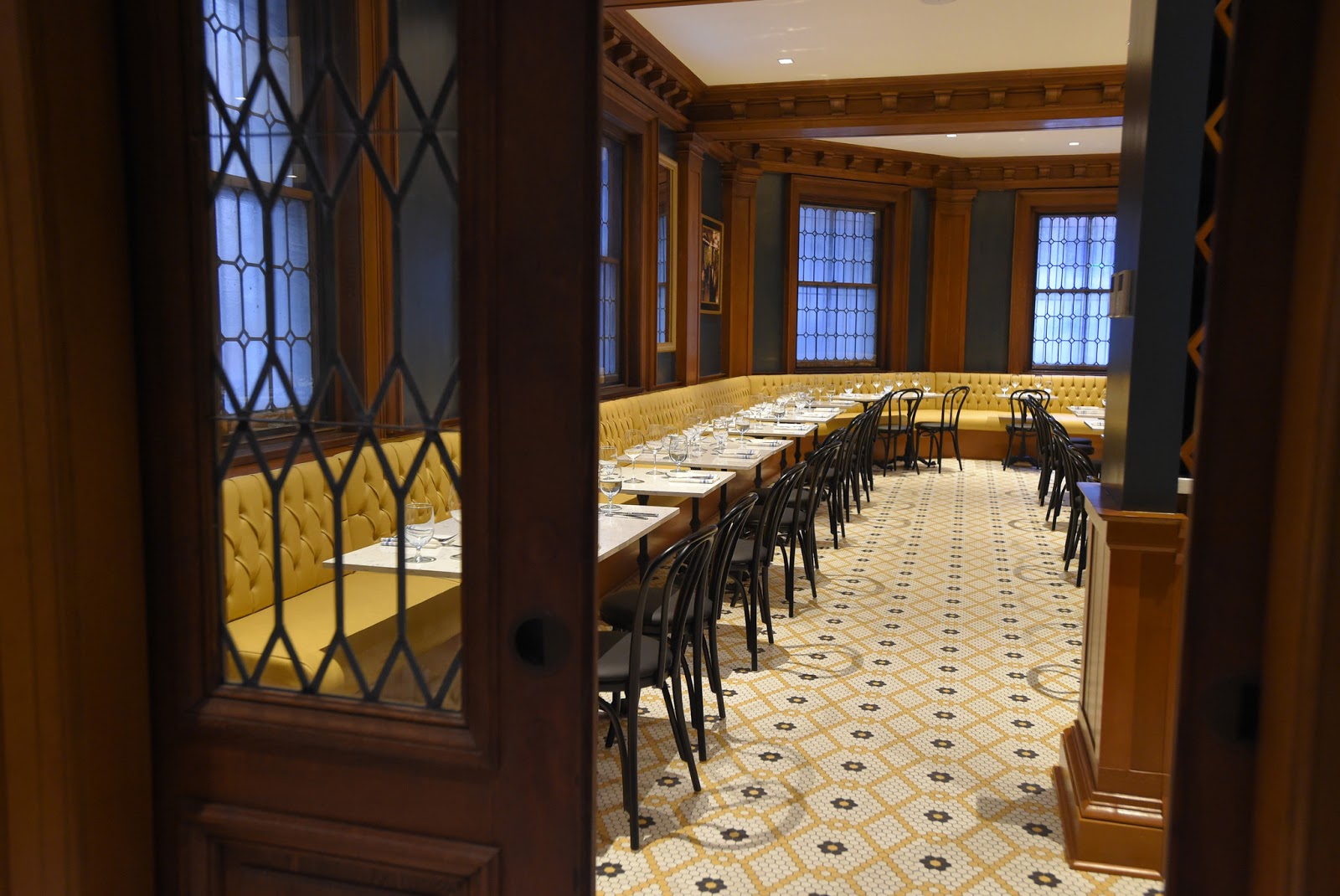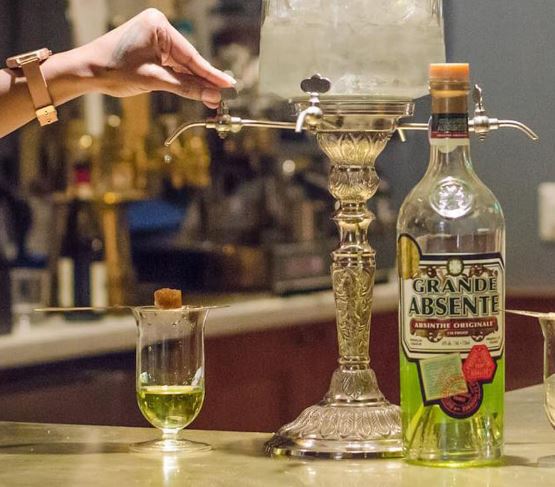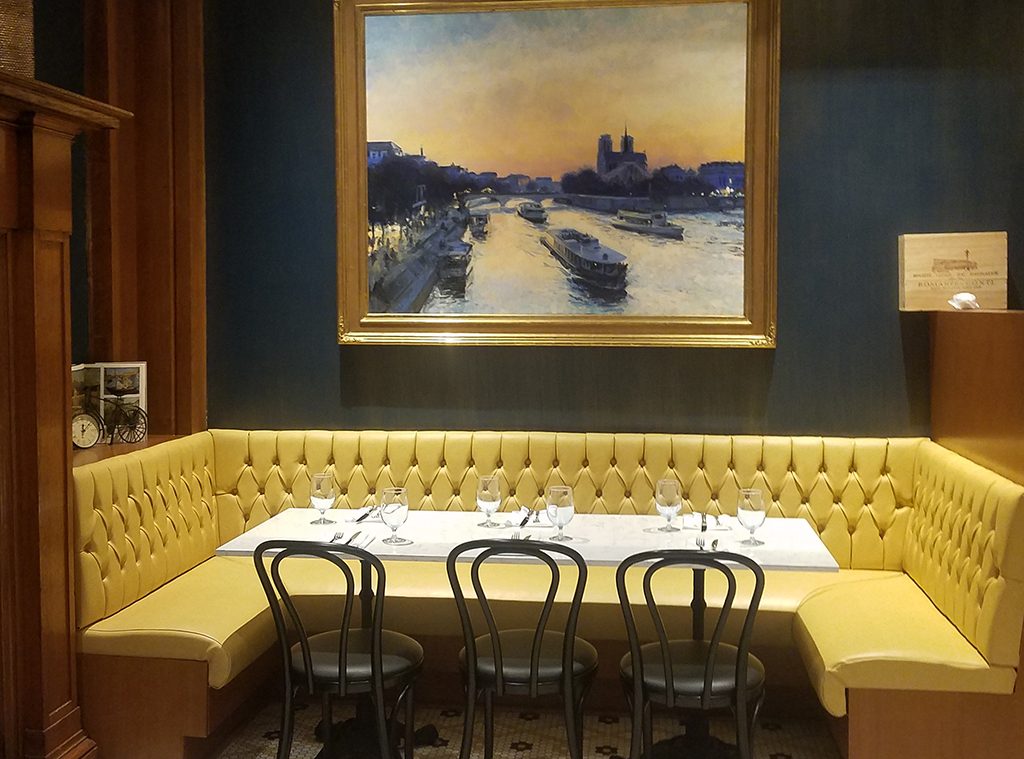 Featuring the inspired farm-to-table cuisine of native Frenchman Chef Steve Monnier, Chez Hugo is a casual bistro restaurant divided into a 60-seat dining room with a small private dining space, and a 24-seat bar. The dining space is highlighted by an open kitchen and wood-burning hearth with a sub-level baking kitchen, butcher room, and an aging room. Chef Steve Monnier offers contemporary, seasonal cuisine within a relaxed, casual dining space to share his passion for family, friends, and great food. On our lunch visit, we delighted in the company of veteran server, Cooper, aka Coop, and Quiche aux Legumes, Seasonal vegetables, Gruyère, and salade verte. And for dessert, the coup de grace, Creme Brulee. Check it out at www.chezhugobistro.com.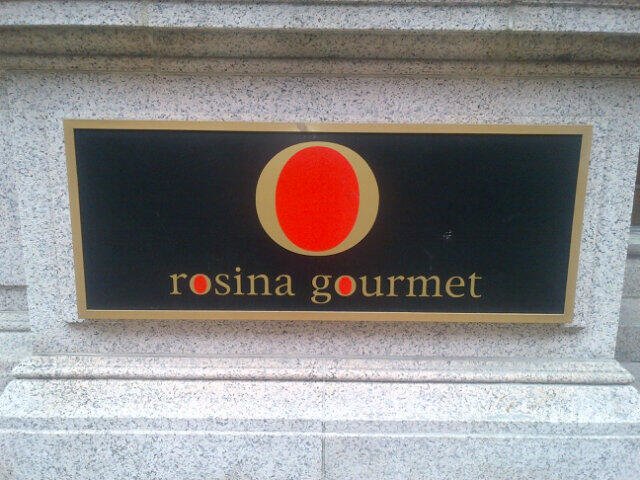 Rosina Gourmet – 301 Water Street
While searching for a new lunch experience in downtown Baltimore and rubbernecking at the beautiful old buildings I came across a mysterious sign on the corner of a block long classical-style building: rosina gourmet. No other information, just a small arrow at the bottom. About two-thirds of the way down Water Street I found the entrance surrounded by massive two-story Ionic style granite columns that reminded me of the Roman baths of Caracalla.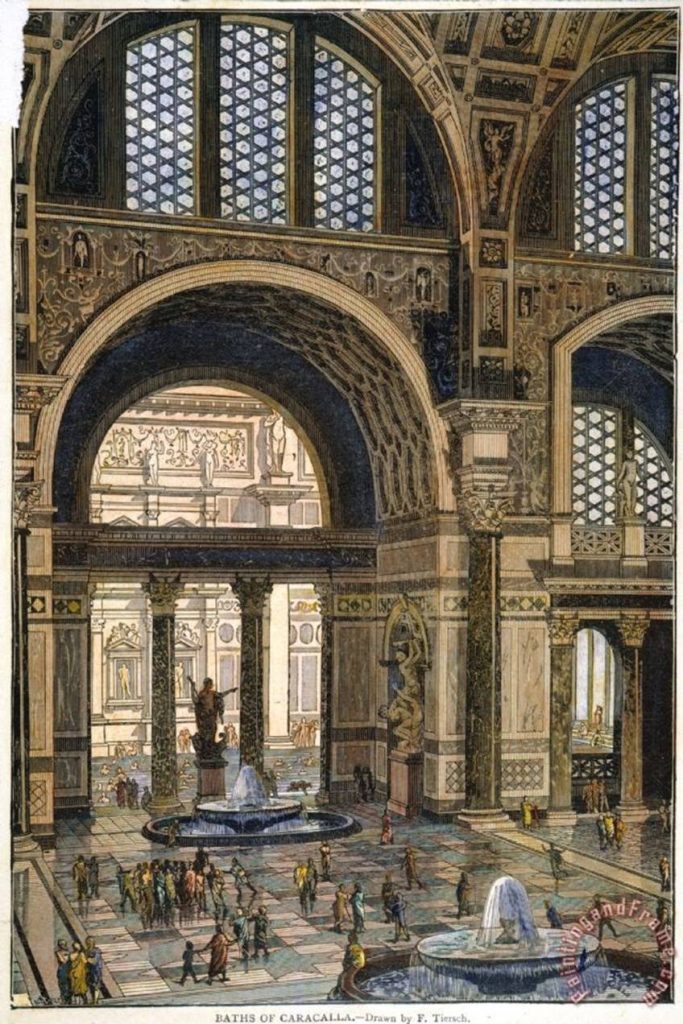 Thinking this was an expensive tablecloth restaurant I was hesitant to enter. A peek in the doors revealed not a maître d' and low lighting but café tables and chairs and a lunch counter with a hand lettered blackboard. Rosina's features salads, soups and sandwiches, all handmade to order. I had one of the daily salad specials, and it was delicious.
If you go to the rosina gourmet website, ignore the Lombard Street address for the downtown location because the entrance is really at 301 Water Street.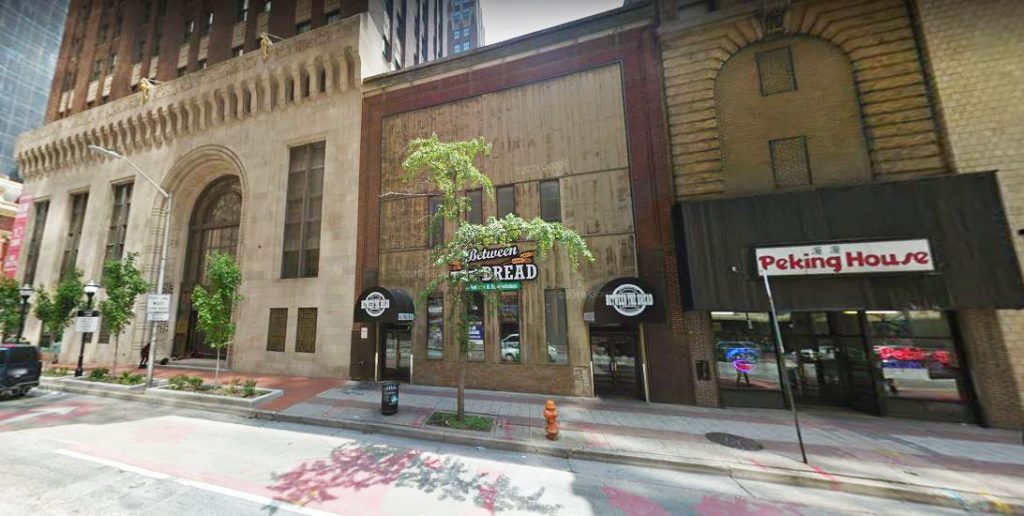 Peking House – 11 East Baltimore Street
One of the peculiarities of Baltimore is the lack of easily visible addresses at businesses. So, for me, finding Peking House was truly a treasure hunt. The architecture bonus of this meal was really two doors down and involved the discovery of the magnificent bronze Baltimore Street entrance of the 1928 Baltimore Trust Building. Believe it or not, a gym is right through those art deco doors!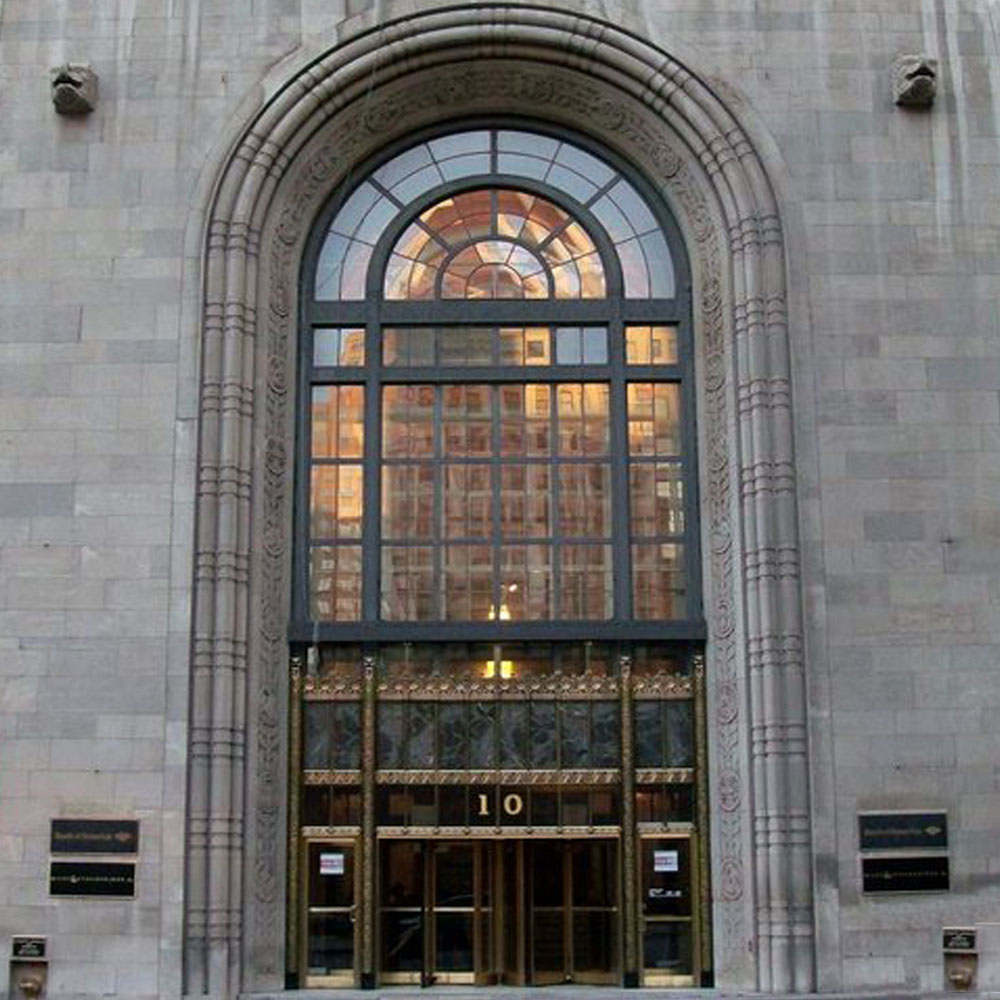 Peking House is the perfect place when I'm busy and don't have much time for lunch. I order a lunch special for carry-out by phone and it's ready by the time I walk the three blocks from the Encore office. There is lots of seating at tables but most patrons are standing around the counter waiting for their order. This visit I had chicken with cashews and snow peas for $7 (including tax) with enough left over for tomorrow's lunch. Visit it soon and don't be shy about peeking in those big doors of the Trust.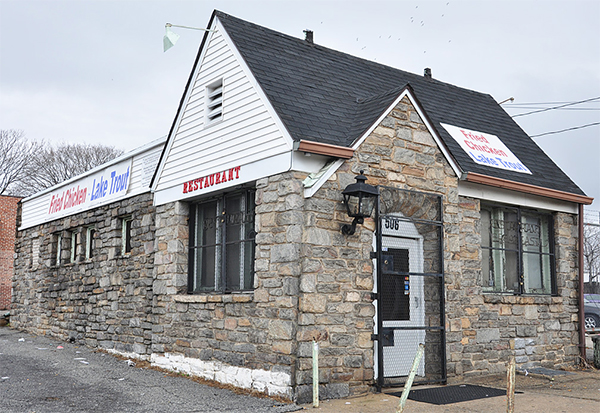 Stone Tavern – 506 East 25th Street
Since our team was taking a lunch break from measuring a building, I looked for local eats on my cell phone. I imagined that the nearby Stone Tavern was an 18th century mansion with a Washington Slept Here sign. Actually the Stone Tavern is a busy, narrow diner with a row of booths and a counter with stools serving comfort food to a diverse neighborhood crowd. We had wonderful western omelets, and Ernie loved his side of bacon. Visit it soon!

Saturday Morning Cafe – 111 Water Street
When the weather is bad or I'm extra hungry I walk a few steps from the office across the cobblestone Water Street to the Saturday Morning Cafe. It has a counter with red vinyl topped stools and an all-day breakfast only menu with a Southern flair. My favorite is the Breakfast Skillet with grits with three fixings, sausage, and two sunny side up eggs. I always end up with a box with leftovers. Check out Saturday Morning Cafe