Chestertown Locals Learn About Historic Tax Credit Programs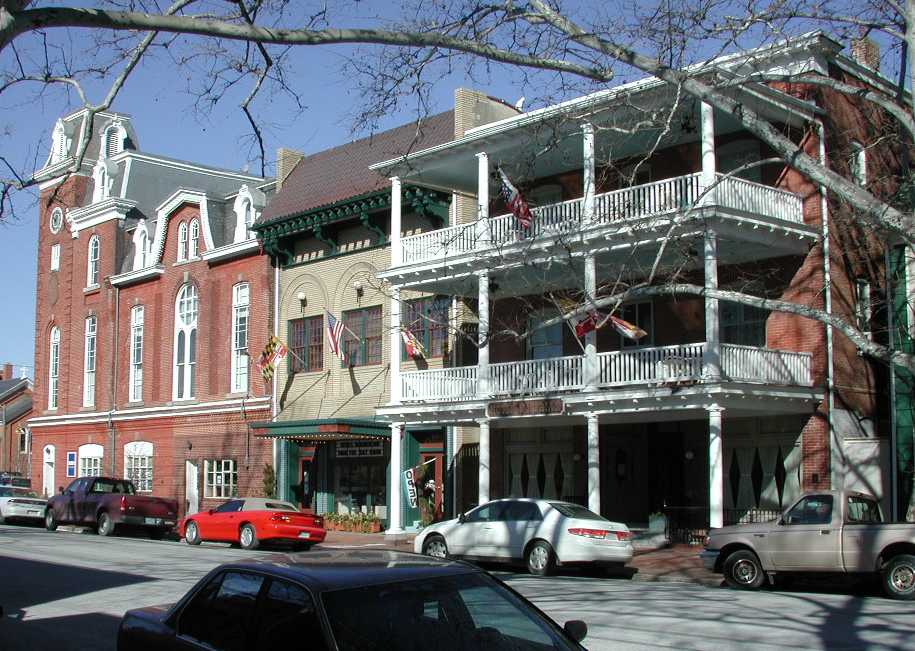 Written by Dorian Mitchell (dmitchell@thekentcountynews.com). Originally published in the Real Estate & Business Section of the Kent County News on Thursday, May 18, 2017.
CHESTERTOWN — Residents and business owners in Chestertown's historic district learned how they could take advantage of both state and federal tax credit programs during a workshop May 10.
Held in the Chestertown town hall, the workshop was sponsored by Preservation Maryland, Stories of the Chesapeake Heritage Area and the Rural Maryland Council.
"We do have a legacy here that we love," Town Zoning Administrator Kees de Mooy said. "We want to preserve what we have here. These tax credits give us another arrow in our proverbial quiver."
The workshop was led by architects Nakita Reed and Ward Bucher of Encore Sustainable Architects. Reed, who serves on the Preservation Maryland board, said this is the third historic tax credit workshop held on the Eastern Shore.
She said the Maryland Historical Trust is the main agency that handles both state and federal tax credit applications. She said certified historic structures are "contributing structures in historic districts."
"In order to get a historic tax credit, you don't have to be on the National Register (of Historic Places)," Reed said. "You just have to be eligible for it."
MHT Office of Preservation Chief and Deputy State Historic Preservation Officer Michael Day said a structure can be designated as such locally, by the Town of Chestertown or Kent County.
"The good news is these people really want to approve your application and get you free money," Bucher said. "But you have to give them all the right information."
For Maryland, there are the homeowner tax credit, small commercial state historic tax credit and state historic tax credit programs. While the homeowner and small commercial programs are noncompetitive, the state tax credit is.
"We call it the 'ugly contest' for the state credit," Reed said. "The uglier the building is, the more competitive it is."
Homeowner applications first go through the MHT and then are submitted to Comptroller Peter Franchot's office for review, while small commercial applications also may be looked over by the National Park Service.
To qualify for the homeowner credit, there has to be a minimum of $5,000 in eligible expenses. The small commercial credit requires no more than $500,000 in qualified rehabilitation expenditures.
All three agencies are involved in the federal tax credit program, along with the Internal Revenue Service. The federal tax credit program also is noncompetitive.
Bucher said the requirements for both the homeowners and small commercial applications are providing all pertinent information on the building's appearance, what the proposed work will be, what the finished product looks like and the request tax credit amount."
"They want photographs of the buildings. They want to see what's there now, what the problems are and what things need to be fixed," Bucher said. "You want to keep really detailed records."
He said the MHT needs to be informed of all changes to an original work plan and that it is wise to hire a consultant when undertaking such a project. He said that elements, such as landscaping, are not eligible to receive tax credits.
"They really want to give this money to projects that really need it and might not survive without it," Bucher said.
There was a small discussion after the presentation. Elizabeth Watson, Kent Conservation and Preservation Alliance board member, read a list of buildings in Chestertown that have received historic tax credits.
It included apartment buildings, small businesses, the Radcliffe Creek Mill property and others.
"So the word is out there," Watson, who received a credit on a property she owns.
Day said for the MHT, the typical turnaround time for applications can be between 30 to 45 days. He said the more complete and better documented an application is, the better.
"We (the town) are here to help too in any way we can," de Mooy said.
Chestertown Photo credit: Don Cook, 01/03/2003