Bancroft Hall – Naval Academy's 'Mother B' hive of dorm life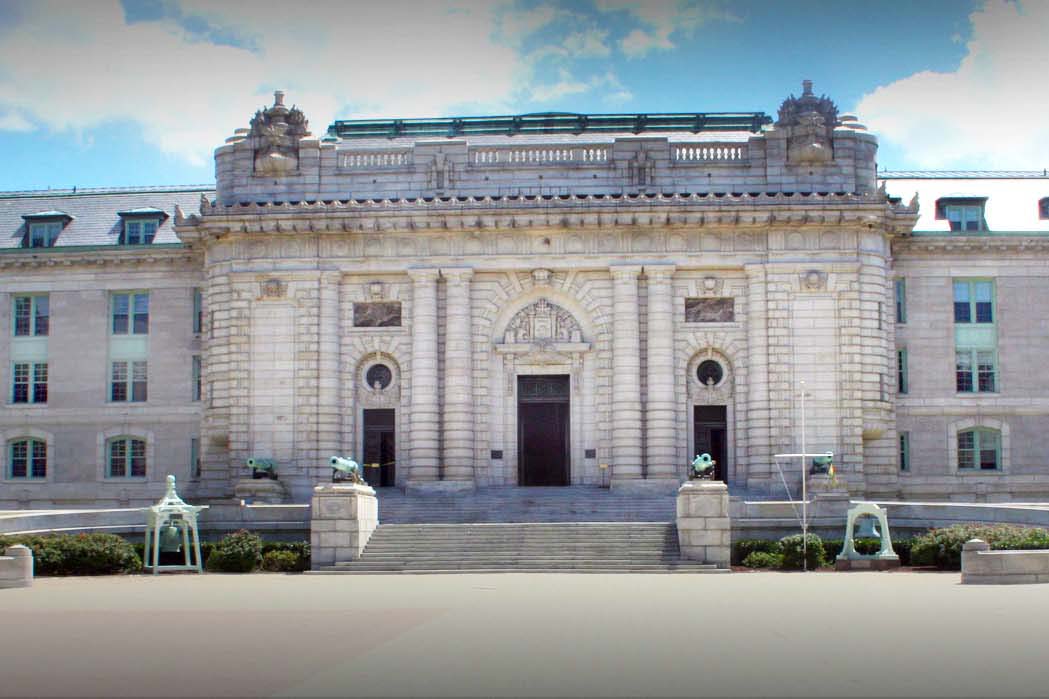 Throwback Thursday: Encore's Architecture News Archive
News coverage today can be extremely sensational, and well, less than uplifting. Encore Sustainable Architects takes a peek at journalism past that covered interesting projects and happenings related to their work and architecture in the Mid-Atlantic.
This Thursday we take a veterans-honoring look back to share:
Home of the Week: Naval Academy's 'Mother B' hive of dorm life by Wendy Winters from the Capital Gazette
It's an Annapolis building so exclusive, thousands apply every year in hopes of living there for four years. The sprawling residence is currently home to more than 4,200 young men and women and is a veritable self-contained city. The place is so big it has its own ZIP code: 21412. Its past and current residents fondly refer to it as "Mother B" or "Mother Bancroft."
Since the early 1900s, Bancroft Hall, designed in the richly detailed Beaux-Art style by architect Ernest Flagg, has housed the midshipmen of the U.S. Naval Academy.
Bancroft Hall is considered one of the largest dormitories in the world. The 36-story MSU Main Building at Moscow State University in Russia has over 5,000 rooms, and Michigan State University in East Lansing has a larger residence hall system of buildings for the 16,000 students it houses.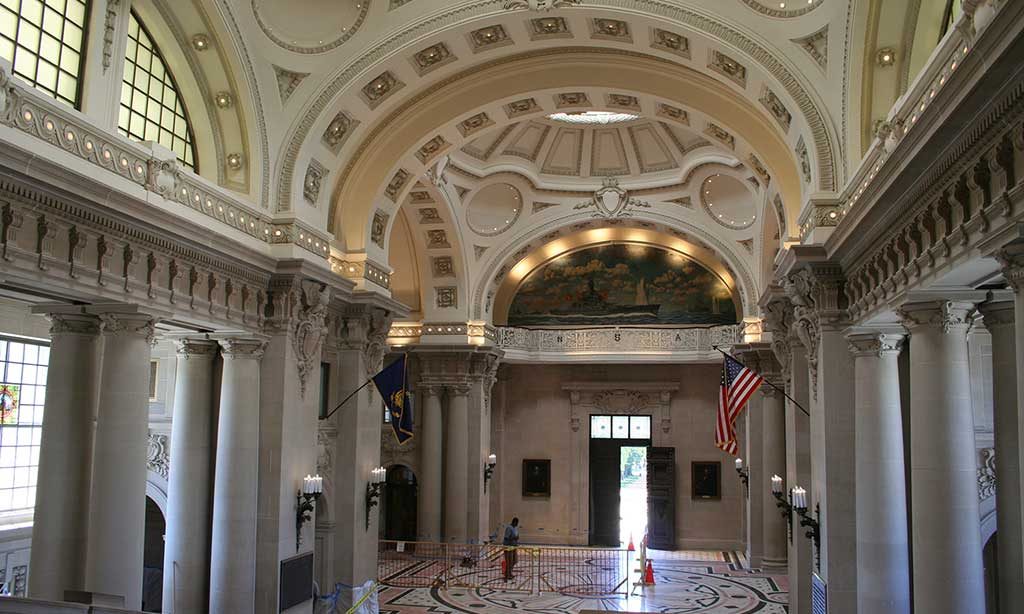 Bancroft Hall was initially built with two wings, now known as the 3rd and 4th wings; six more wings were added in the 20th century. The wings numbered as 5th and 6th were built in the 1920s. In the 1930s, the wings now known as the 1st and 2nd wings were constructed. In the 1960s, the final set of wings, the 7th and 8th, were built. In 1994, the Academy undertook a nine-year, $250 million renovation of the structure to remove asbestos; replace roofs and do structural upgrades; install a new HVAC system and sprinkler, fire alarm and audio-visual systems; restore ancient plaster ceilings and artwork; and give old Mother B a thorough cleaning.

"It's an amazing place. Quite a historic dormitory," said James Cheevers, the U.S. Naval Academy Museum's associate director and senior curator. "And, pretty much self-supporting."

Snaking through the five-story complex, which contains 33 acres of floor space, are 4.8 miles of corridors, 1,600 miles of wiring and 1,700 dorm rooms. There is also a U.S. Post Office, a barbershop, a tailor shop and uniform store, a shoe repair shop, a branch of the NFCU Bank, a travel office, laundromat, and clinic space for doctors, dentists, optometrists and orthopedic specialists.

Hungry? On site is King Hall, a cavernous, 5,500-square-foot cafeteria that was recently completely renovated. All the midshipmen can be seated at 372 tables and fed a hot meal within minutes of their arrival. Over 12,000 meals are served daily.

On a smaller scale, The Steerage is a small, pleasant restaurant tucked inside the building that serves up sandwiches, snacks and smoothies on weekday evenings. Bancroft Hall also has The Midshipmen Store. Billed as a general store, it's really a department store stocked with an amazing array of supplies, stationery, clothing, electronics, snack food and souvenirs.

There is also office space for the Commandant of Midshipmen, officers and chaplains for all six battalions, and for the 30 company officers – one for each of the Academy's 30 companies – and senior enlisted leaders.

Most of Bancroft Hall is off-limits to visitors, but its Memorial Hall is open to the public, generally from 9 a.m. to 5 p.m. daily. A sample midshipman's room is also on display.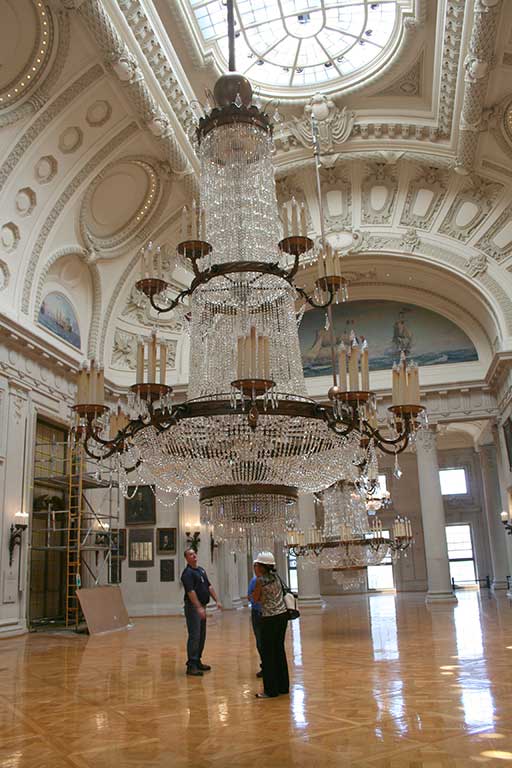 We'll stroll down the brick path called Stribling Walk, named for the academy's third superintendant, Cornelius Kinchiloe Stribling, past the bust of Tecumseh towards the courtyard in front of Bancroft Hall, a handsome building faced with pale granite. The court is the spot where incoming freshmen, freshly shorn and wearing new sailor suits, raise their right hand and are sworn into the Navy on Induction Day. It is also the scene of epic snowball fights, and raucous rallies before football games.
Not a typical front door
How many dormitories feature twin sculptures of battleships, high on the roofline, guarding the entry? Or a pair of ornate cannons with a verdigris cast flanking the grand exterior stairway?
Past the main doorway, visitors enter the rotunda by walking beneath a striking lunette mural, measuring 84 by 264 inches, painted and signed by Cdr. Dwight C. Shepler. The dramatic painting depicts the USS South Dakota during the Battle of Santa Cruz Islands in the Pacific, October 26, 1942. High above are ornate barrel vaulted ceilings and the rotunda's dome. Beneath our feet is a gorgeous black, rose and cream patterned marble floor that echoes the design of the dome. Ahead, atop a dramatic staircase flanked by columns, is Memorial Hall.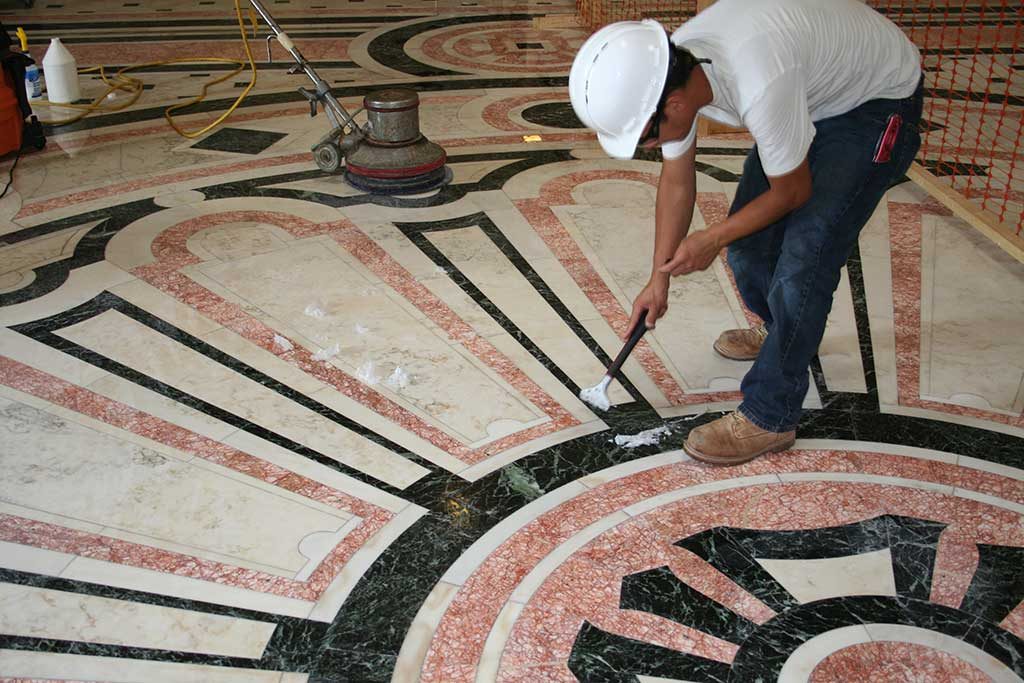 To the left, at the top of the stairs, is a small, accurate diorama depicting the heroics of the late Col. John W. Ripley beneath the bridge at Dong Ha, Vietnam, on Easter Sunday, 1972. In the scene, Ripley, a 1962 graduate, is preparing to blow up the bridge single-handedly.
Intrigued? Read more of Home of the Week: Naval Academy's 'Mother B' hive of dorm life
Read more about this Encore Sustainable Architects' project.