Design vs. Draft: Unraveling What Exactly an Architect Does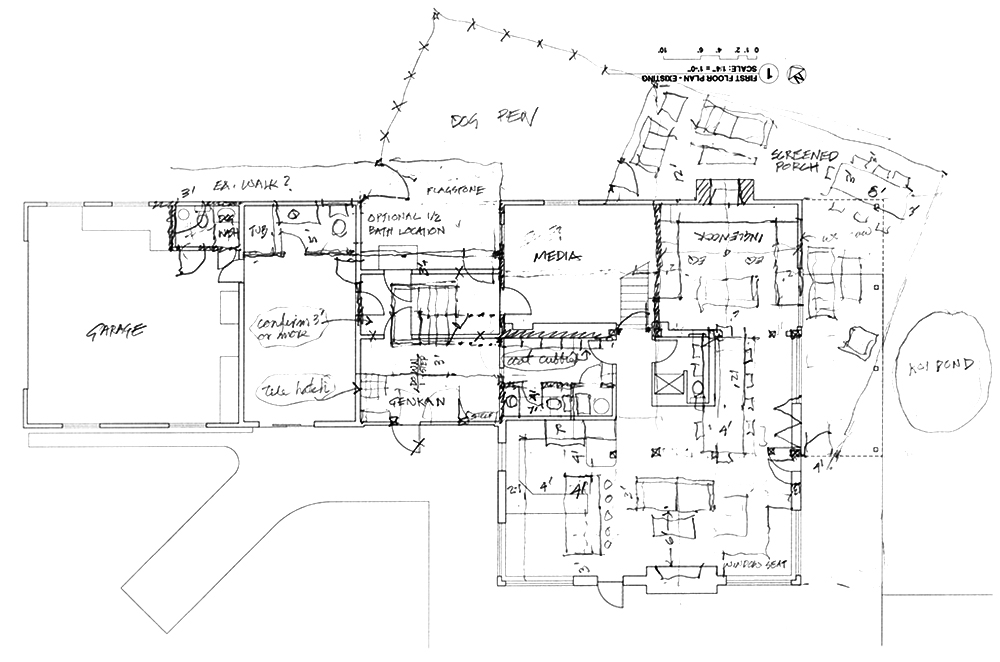 Sometimes we get a call for work, and the potential client says, "I need someone to draft some plans". We can tell immediately that they might be unfamiliar with the full scope of what architects do. There is a big difference between these two words: design and draft.
Design is the entire architectural process of giving life to the client's ideas through a holistic lens—including both art and science, while drafting is the process of drawing a design. A drafted set of plans is an important part of the design process, but just a part.
When I worked in London, I was surprised to discover that most drawing production was by professional drafters who didn't aspire to be designers. In North America much of the production is done by college graduates of architectural programs drawing lines on their computer screens. At the same time there are hundreds of drafting services online with drafters both local and abroad, working for architects and individuals.
An architect is usually responsible for the project from start to finish—from pre-design through construction administration. This requires more education and licensing, including an undergrad degree, a Master's of Architecture, a minimum of two years practical experience, a license exam, and annual continuing education courses to maintain a license. Because of their specialized education, architects can handle more complex designs and design changes.
A draftsperson's main responsibility is to prepare technical drawings. Though they may become specialists in their field after years of experience, there are no specific education or licensing requirements. Many however do obtain a two-year degree and/or Computer-aided Design (CAD) classes.
No matter which professional creates it, the construction-ready drawing is one of the main outputs in the project. But how the two get there is completely different.
I work under the guiding principle that the architecture industry is part art training, part science, and part math—all made easier with the integration of technology. But there is no substitute for a hand sketch. That's the first step in my design process, second only to the initial client conversation. A drawing isn't just a deliverable, it's the heart of the architectural design process.
As an architect, my approach to the drawing starts with helping the client define their vision, which requires creativity, planning, and thought. For me, drawing is the way I think through the process. It allows me to see something my clients didn't, solve a problem before it becomes one, or ask an important question. Architects are trained in aesthetics, use of space, color, form, and texture—everything needed to see possibilities. A draftsperson's method to the drawing is rooted in technical nuances necessary to produce a graphical representation of the project that often doesn't convey the project's full creative potential.
Don't get me wrong, technology is an integral part of the entire design process. CAD has certainly made life easier and faster for both architects and draftspersons. Hand sketches and technology peacefully coexist in my world. Drawing flushes out the creative ideas and software provides the exactness needed for schematic designs. As architects, we put them all together.
So Who Do You Use for Your Project?
Which professional you decide to work with depends on the scope of your project and your budget.
If you have a simple remodel of a room or two, you may want to go with an experienced draftsperson.
If your project is more complex or a historic preservation or renovation, a licensed architect will be better suited as they are trained in sustainability, structural safety, codes, and of course artistic design. Before you make a decision, meet with members of both professions, ask lots of questions, and set clear and realistic expectations to ensure the success of your project.
Hire Encore as architects and leave straight drafting to straight drafters. We'll even provide you with great references!