Reduce, Reuse, Repurpose: The May Residence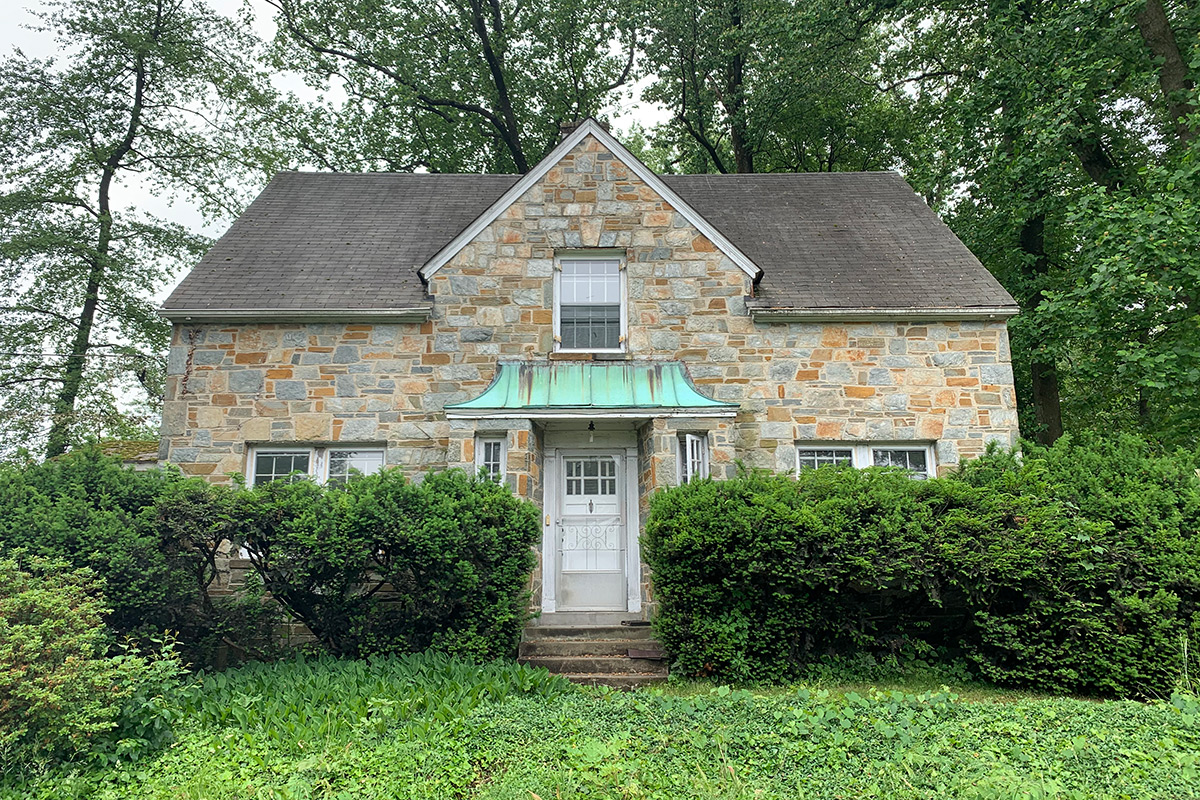 This unassuming 1920's era Tudor style home boasts 2300 square feet, 2 bedrooms and 2.5 bath in Silver Spring. The current owner's parents were the second owners of the home in its nearly 100 years, and now his son is looking to renovate and restore the home with his partner.  The goals of the young couple include preserving the historic charm of the home while reworking and expanding the cramped layout to a more spacious and useful 2500 square feet. In addition, the couple is very eco-conscious and looking to employ a variety of sustainability techniques to minimize energy, water use and waste as well as maximize reuse of materials.
Repurpose
The home still retains its original configuration with cozy rooms, corridors and closets. The homeowner luckily has the original blueprints for the property, making it easier to determine where and how to work within the original bones of the building to expand and repurpose existing space.
On the main floor, a screened porch will be enclosed for use year-round, a small u-shaped kitchen removed and replaced with a larger kitchen expansion along the back of the home, a dining room will be resituated and the miniscule half bath removed and reconfigured elsewhere with a larger footprint. A bluestone terrace will be installed in the rear of the home.
On the bottom floor, an unfinished cinderblock basement will be expanded to create finished space for a rec room, full bath, root cellar, laundry room and dog wash with an exterior entryway.
On the upper floor, the space will be configured from two twin bedrooms with baths to a master and a smaller guestroom/office.
Reduce
The home was designed as a completely gas powered home including lights, water heater, heat and stove. Much of the original lighting, radiators, heaters and more still remain, requiring considerable work, but offering opportunities to upgrade to more sustainable practices.
To conserve energy and water, an on-demand tankless water system will be installed and rainwater capture incorporated for the garden.
To conserve energy and improve lighting, skylights will be added for additional natural light and LEDs will replace all existing lighting.
To conserve energy and improve heating & cooling, the home will take take advantage of the hill it is built into and utilize geothermal heating.  This practice involves using the 55 degree consistent temperature of the earth and the ground as a radiator. In addition, energy efficient Pella windows will be used in the enclosure of the side porch.
Reuse
The homeowners will keep and reuse as much original home material as possible, and use sustainable products when able.
Hardwood floors original to home will be refinished and used throughout the home.
Reclaimed wood will be used for any repairs and patches.
Beautiful original wood doors, hardware and trim will be refurbished and refinished.
All brick will be reused and any repairs made with salvaged brick.
Enviroslate, made from

95% 

sustainable

materials will be used to reroof the home,

costing less than slate and lasting up to 50 years.
We're excited to see this project move along and invite you to join us on the journey!