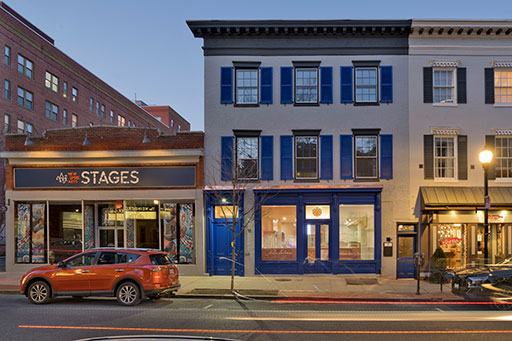 Nelson Coleman Jewelers has conducted business in the Baltimore and Towson area since the 1880's. The jewelry business has been in the family for six generations, and in 2022, current owners were ready to add another location. Charming Frederick, Maryland was selected for its vibrant downtown community and the historic building at 11 W. Patrick Street was purchased.
The family's generational ambition was highlighted in the design, construction and opening of the new location, which was accomplished in approximately four months – an amazing feat.
Amanda B. Coleman-Phelps, President & CEO of Nelson Coleman Jewelers remarked, "From day one of working with Encore Sustainable Architects, I felt like I was in the only customer they had. I know that's far from reality but that's how much time and attention they paid to me and my project. They coached me through the whole process and made sure the decisions I made were the right ones for longevity even though my time line was short. Please note that this was not a small project! We were turning a building built in 1865 into a retail jewelry store complete with two 7000lb safes.
They worked closely with my contractor, and together they held my hand through the whole process. I felt like I was a member of their family, that's the care they took with me! The amazing thing too was that Ward had designed the store front we were using years earlier so it all came full circle when we brought him back in to help us with the rest of our project. Ward came and visited our store in Towson to make sure we could match as many branding elements that we could with the case layout and overall design.
The time and attention was beyond anything I've ever experienced. I never felt inadequate when asking a question, they always made me feel confident. I know that working with specialized teams can feel intimidating but I never felt that once. I highly recommend Encore Sustainable Architects and I can't wait to be able to work with them again!"
In 2018, Encore Sustainable Architects worked with Ausherman Properties on a design for the exterior of the building for an application for historic tax credits. In September of 2022, Encore was retained by Nelson Coleman and prepared concept, design drawings, building code review, and permit drawings in an amazing one month timeframe. Permits were acquired in October after which Encore carefully performed construction administration and advisory services on critical issues including the support of and moving of the 7 ton safes into the historic building and addressing unstable wall structures.
The new store location opened with fanfare in February, just in time for Valentines Day.
Media
Towson jeweler plans to open shop in Frederick