Out of the Fire at 111 South Washington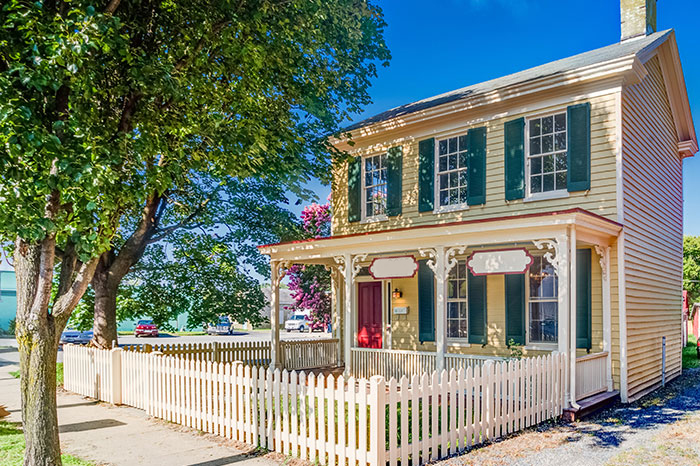 In 2021, Easton, Maryland's beloved Out of the Fire restaurant celebrated 20 years with an announcement that they would be relocating to 111 South Washington. Encore, several years earlier, served as architect on the nearly 200 year-old-home, and was honored to be invited back to the property to adapt it for it's next phase of life. With permits in hand, and design drawings ready, 2022 construction has started off with a bang. Our work will include constructing a new commercial kitchen at the rear of the property, redesigning the upstairs for private dining and meeting space, adding accessibility and service ramps, and an additional side porch, and adaptive reconfiguring of space throughout.
Previously, Encore completed the historic rehabilitation of the 1824 property at 111 South Washington Street in 2017.  At that time, our services combined historic preservation with adaptation to create a small, elegant office building. Scrollwork brackets add subtle elegance to the Italianate style front porch. Wrought-iron and cast-iron pintle hinges on the louvered shutters define different construction phases the property has gone through. The previously gutted second floor was modernized with a ductless heating and cooling system, and low energy LED lighting.  Maryland's Small Commercial Tax Credit program and the Federal Historic Tax Credit programs made the project economically feasible.
Wherever possible remaining elements were restored, including flooring, windows, siding and porches. Restored details like the front window shutters and porch brackets enliven the façade. Since all of the existing second floor trim had been removed, recessed door and window surrounds and baseboards were used to acknowledge the missing history. The new flooring was also stained gray to differentiate it from the original flooring.
Media
Out of the Fire to Move to New Location
Photos by Ron Ceasar