Star-Spangled Banner Flag House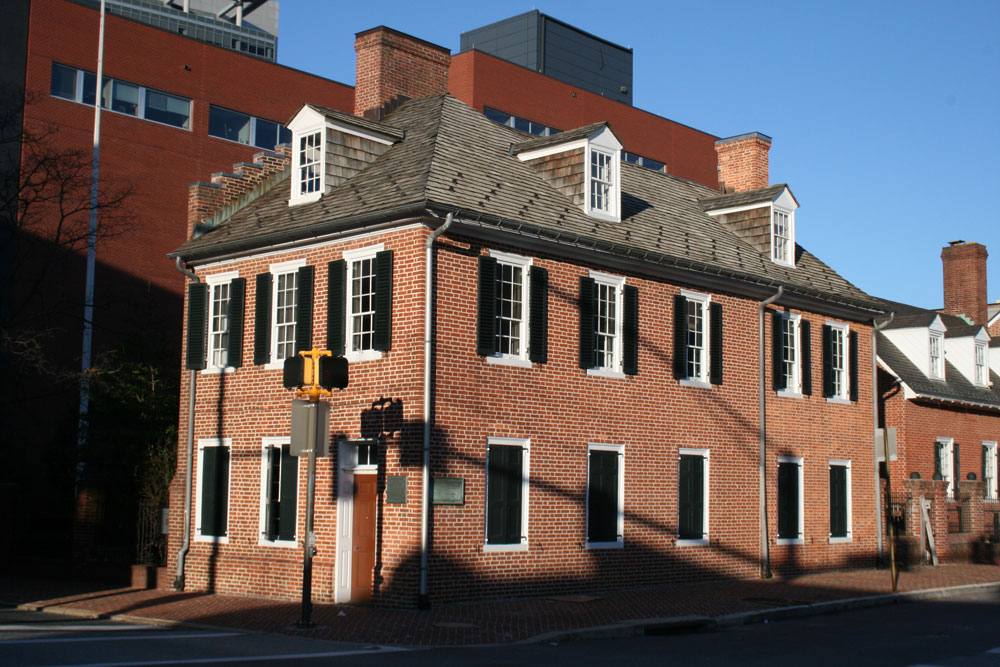 Built in 1793, the Star-Spangled Banner Flag House, a National Historic Landmark, was once the home and business place of Mary Pickersgill, who sewed the garrison flag Francis Scott Key witnessed flying over Fort McHenry that inspired him to write our national anthem.
In 2017, Encore was selected to serve as the Historic Architect on a project to repair and replace missing items on the exterior of the building. The now completed project involved replacing 18 broken panes of glass with historically matching glass, capping the chimneys and stepped parapet, forging replicas of missing wrought iron shutter dogs, replacing deteriorated bricks, and repairing and painting all woodwork .
The construction management team included Amanda Shore-Davies, Executive Director, Star-Spangled Banner Flag House, Nick Cairns, C & H Restoration and Renovation, and Jackson Gilman Forlini, Historic Preservation Officer, General Services, Baltimore City.
The House is open to visitors and for special event rentals.
"In 2017, the Star-Spangled Banner Flag House and Museum began plans for extensive exterior repairs and preservation of the historic building and sought the services of a local preservation architect. Encore Sustainable Architects came highly recommended by other Baltimore preservation organizations and museums. Encore conducted a building survey and acted as the liaison between the Museum and contractor from the bid process through the completion of Phase I. While the fabric of the building is in good condition for being nearly 230 years old, the historic Flag House required painting, fabrication, and replacement of shutter dogs, capping of both chimneys, window light replacement, and considerable masonry restoration. For the first time in more than 50 years, the Flag House would be getting a facelift, and Encore saw us through every step of the process.

It was a pleasure to work with Ward and the rest of the Encore team! We look forward to continuing to work with Encore on Phase II of this project to rebuild the Museum's historic iron and masonry wall."

Amanda Shores Davis
Executive Director
Star-Spangled Banner Flag House and Museum
Media 
Visit Baltimore: Star-Spangled Banner Flag House