Port Plaza Multifamily and Retail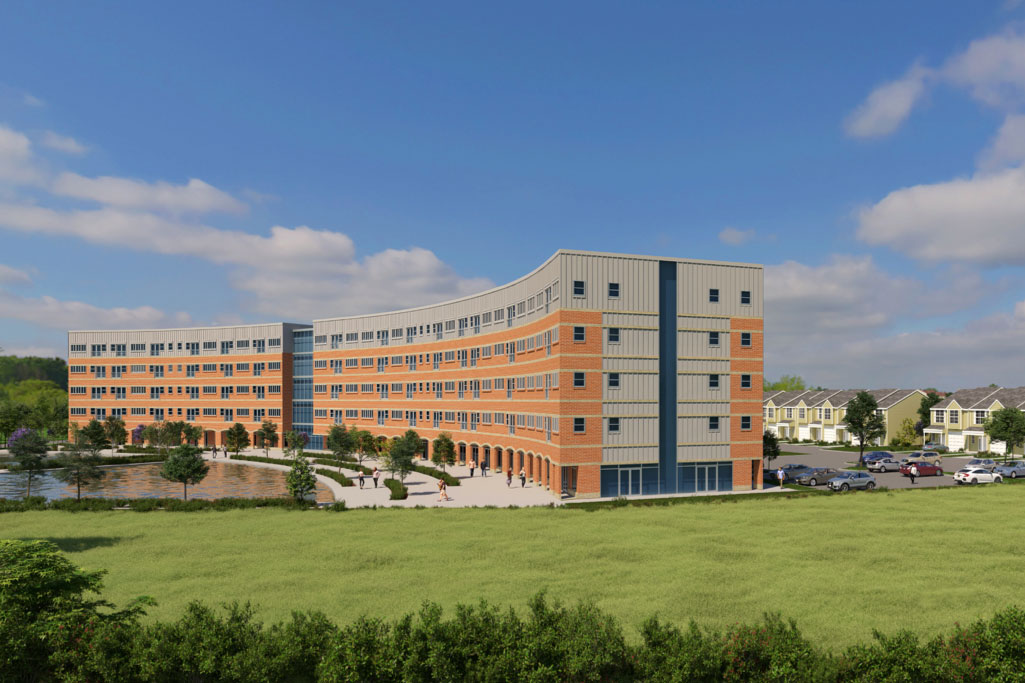 Encore Sustainable Architects worked with the Easton Economic Development Commission to design Port Plaza, a signature mixed use property for a developing community, Easton Point, in downtown Easton, MD. Encore conducted a land use study and plan as well as the design of the new construction, which included a variety of sustainable practices.
Port Plaza is a multi-family and retail project with 117 housing units, an 18,000 SF job training center and food service. The 3½ acre site has a density of approximately 34 units per acres. The townhouses create a buffer strip where the south end of the property abuts 2-story quad rental units. The modern design responds to the local historical context with decorative brickwork in the arched openings at the base.
The main curved building has 24 studio, 36 one-bedroom, 36 two-bedroom, and 8 three-bedroom units. The individual balconies for each unit enliven both curved facades. The apartment lobby extends through the building and divides the ground floor training space into two areas of approximately 6,000 SF and 12,000 SF, and breaks up the building massing into smaller elements.
The two-story townhouses are in two groups, one with six units and one with seven units. Each townhouse has a garage, kitchen, family room, dining area, and three bedrooms.
The inner curve of the building faces a landscaped plaza and two large ponds divided by a walkway leading to the Port Street/Parkway intersection. In addition to being decorative, the ponds are part of the storm water management system. Surface parking is located between the townhouses and the mixed-use building and is accessed from Meadow Drive.