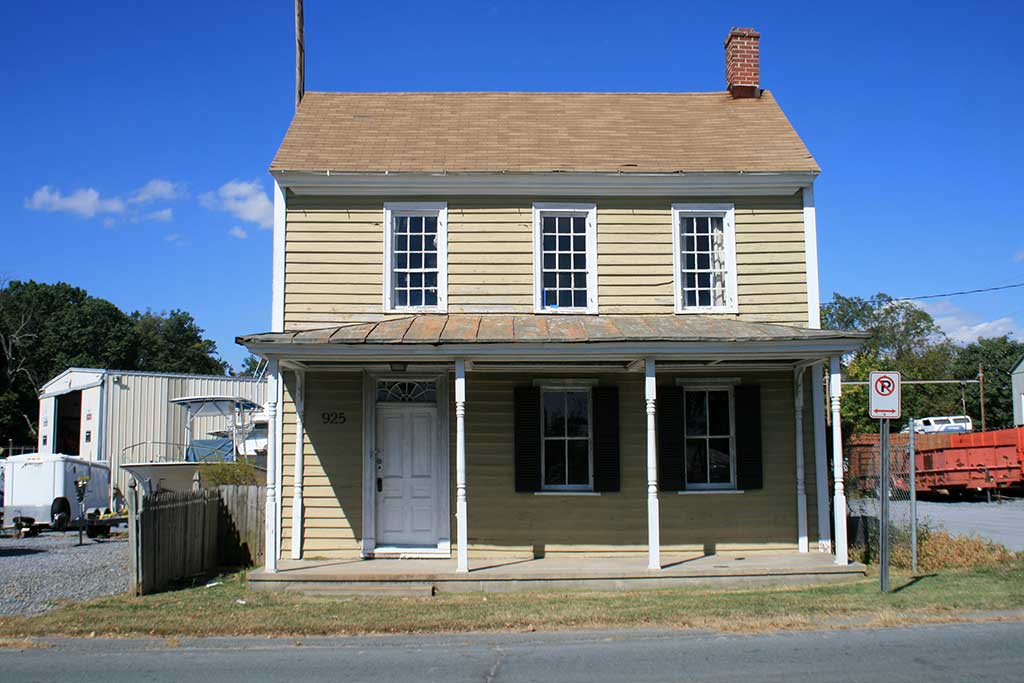 Cloudsberry Kirby, who built the house next to the Tred Avon River in 1791, was a joiner who made and installed cabinets and trim. Although tiny by today's standards, the house is full of beautiful carpentry details. This small two-story house is an impressive example of his skills with heavy double-architrave door and window moldings, a simple but elegant staircase, and nine-over-six double-hung windows. The fireplace mantelpieces are particularly fine with carved narrow reeding (semicircular bars) decoration in chevron and zig zag patterns. The hand carved fanlight over the front door is also a notable example of craftsmanship.
Grander Eastern Shore buildings such as Radcliff Manor, directly across the river, and the Bullitt House, in downtown Easton, share many of the same design details, such as the narrow, diagonal reeding on the mantel.
Once part of a village lining Port Street, the amazingly intact house now has just one neighbor house. In 1885 the Kirby House was one of 14 dwellings in the village at Easton Point on the Tred Avon River. By that time, a hipped-roof, one-story front porch with turned wood columns had been added. Possibly at the same time, the two front first-floor windows had been modernized with larger pane two-over-two sashes and cast-iron shutter hardware.
The owner, Talbot County, engaged Encore in the historic documentation of the existing conditions with photographs and measured drawings. Encore documented both the original house with its multiple additions and a wood plank outbuilding with dovetail corner joints with photographs and measured drawings.
Media Coverage