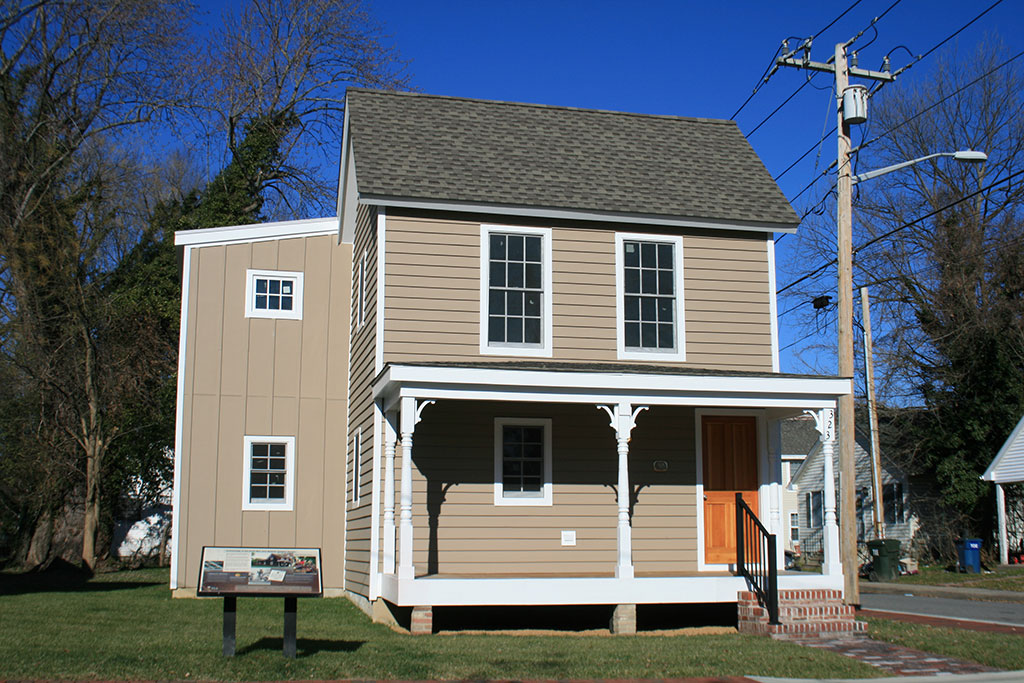 This circa 1869 house located in Easton, MD has become known as the Buffalo Soldier House. The small house sits at a key location in the Hill neighborhood, said to be the oldest free black community in the United States.  John Green, a black soldier who served in the Civil War, began living in the home in 1879, and after Green's death, his nephew, a Buffalo Soldier named William Gardner, lived there.
The historic preservation and rehabilitation of the long vacant house is part of the town of Easton's "Housing on the Hill" project which is rehabilitating six historically significant houses in the area and offering them as affordable housing.  A Community Development Block Grant (CDBG) funded the project.  Encore Sustainable Architects' Ward Bucher served as preservation architect on the project and coordinated efforts to rehab and redesign the home which included removing the home envelope, raising it off and rebuilding its foundation, and moving it eight feet from its original location. The interior of the home also required a redesign and build.
The dedication of the home took place in fall of 2019, and key speakers included Carlene Phoenix, President of Historic Easton, Don Bibb, Executive Director of the Talbot Housing Authority, and Kenneth Holt, Secr​etary of the Maryland Department of Housing and Community Development. The crowd was full of volunteers, officials and administrators who teamed to make this project happen.  The house will be sold as affordable housing to a military veteran.
"The Housing Commission of Talbot was honored to have had the assistance of Mr. Ward Bucher of Encore Design to be part of the renovation and design team on the well documented Buffalo Soldier House. This project was an undertaking of such historic significance that we needed the best architect who was familiar with historic guidelines and sensitivity to the renovations. This is where Mr. Bucher stood out among all others. His detail to the needed work and expert guidance during the construction made the project the noted success it ended up being."

Don Bibb, Executive Director of the Talbot Housing Authority

"This house could not have been saved without Ward Bucher's help. Ward believes no important building is too far gone to fix! He kept everyone positive that the house could be saved structurally and preserved historically. Early on, he came up with a clever idea for a stairwell, laundry and bath. This simple small addition adds so much functional space to the original interior. The inside of the house now flows for modern living and its history is preserved from the street."

Carlene Phoenix, President of Historic Easton
Media
Buffalo Soldier House dedicated in Easton
A House on the Hill
Housing on the Hill. An Affordable Workforce Housing Effort